Apple Stores around the world to close hours early next weekend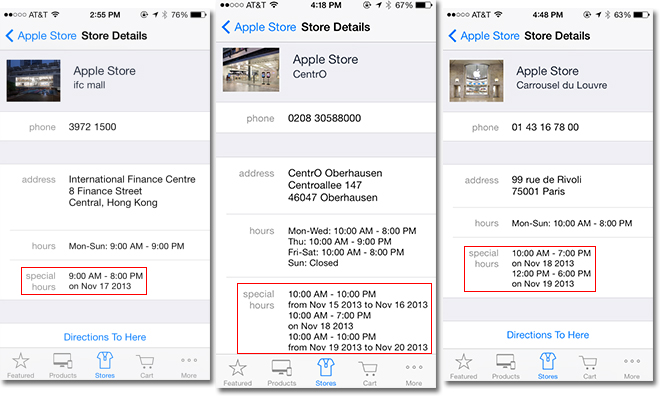 A large number of Apple Stores from Canada to the Far East will be operating under "special hours" on Nov. 17 and Nov. 18, with most locations closing two to three hours early on Sunday for unspecified reasons.
It was discovered on Wednesday that a growing number of Apple Stores in Canada, China, France, Germany, Hong Kong, Italy, Japan and Spain will be closing early next weekend. For the most part, East Asian stores look to be shutting down on Sunday, while European locations vary from Sunday to Monday.
Earlier today, AppleInsider discovered a handful of Apple retail outlets were advertising early closing times, and more stores have been added to the list over the past few hours. For example, all Apple Stores in Japan are now showing special hours. Usually, Japan's Apple Store locations open between 10 a.m. and 9 p.m. daily, but will be closed from 6 p.m. next Sunday.
In Germany, Apple Store hours are even more sporadic, with 10 of the country's 12 stores closing on Nov. 18. The store in Dresden, for example, closes early on Monday, but will shut down for the entire day on Wednesday. The Oberhausen outlet, by contrast, is staying open late on Friday and Saturday, only to close early from Monday through Wednesday.
The cause of the closures is unknown, though Apple does have at least two important launch events coming up with the Retina iPad mini in November and Mac Pro in December. It should be noted that the company usually reserves Fridays for big Apple Store events and rarely starts the week with a product launch. More likely, the company is holding regularly scheduled meetings, but the Oberhausen store's hours are particularly interesting.
Gary Allen from ifo Apple Store confirms that he hasn't heard anything specific regarding the dates, but guesses the early hours may be for pre-holiday pep talks.
AppleInsider's Shane Cole contributed to this article.