Apple loses smartphone market share as Chinese vendors gain in Q3 - Gartner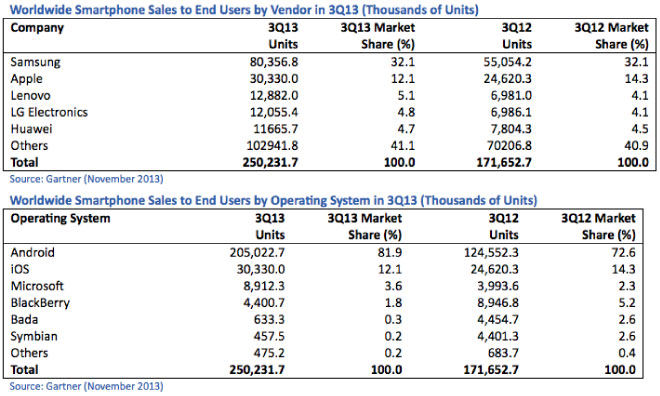 Apple's iPhone shipments increased by 23 percent over the same period last year, but the company's share of the worldwide smartphone market still slipped as competition, particularly from China, grew at a faster rate, according to a new industry report.
More than 30 million iPhones made their way into consumers' hands last quarter, but a massive leap in the overall size of the smartphone market — Â some 46 percent, or almost 80 million units — diluted Apple's share from 14.3 percent a year ago to 12.1 percent today, according to new research from Gartner. Chinese vendor Lenovo was the primary beneficiary of Apple's decline, booking a rocket-like 85 percent market share increase.
Samsung remained the market leader, coming in flat with the same 32.1-percent share it clocked last year.
The figures include just one week of sales for Apple's new flagship iPhone 5s and mid-range iPhone 5c, which debuted at the tail end of the quarter. The handsets' "impact could have been greater" if they had shipped earlier in the reporting period, said Gartner principal research analyst Anshul Gupta.
The Asia-Pacfic region continues to post huge increases in smartphone sales as consumers increasingly abandon feature phones for low-end smartphones.
"Sales of feature phones continued to decline," Gupta said, adding that buyers in developing economies like China and Latin America "rushed to replace their old models with smartphones."
Asia's rise has been a major contributor to the dramatic share increases for local players. China accounted for nearly half of the Android devices sold during the quarter, and nine of the top ten Android vendors in the country are Chinese.