Unofficial Web tool tracks Retina iPad mini availability for U.S. Apple Stores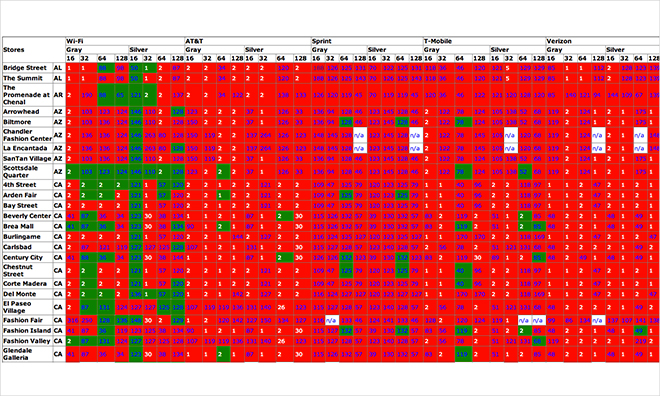 AppleInsider may earn an affiliate commission on purchases made through links on our site.
With Apple's iPad mini with Retina display seeing severe supply constraints at launch, a Web-based tracking tool offering in-store pickup availability has popped up in a most peculiar place: a website dedicated to the conservation of sea turtles.
The Web tool, part of Seaturtle.org's iDevice Availability Notifier, shows a snapshot of Retina iPad mini availability for a number of Apple Stores across the country in an easy-to-read grid format.
At the time of this writing, the grid is mostly red, meaning Apple's hotly anticipated tablet is either sold out or not yet in available pickup at a majority of listed locations. Wi-Fi only models seem to be readily available in some areas, while Wi-Fi + Cellular versions are extremely limited, with only 64GB models up for grabs from select stores.
The site says its inventory checking methods use a "publicly accessible XML service on the Apple site" and notes no scraping techniques are employed. Last week, Apple forced the shut down of another web-based tracking tool for scraping data from the Online Apple Store.
As Seaturtle.org describes:
Availability of new iPad minis at US Apple Stores based on our latest checks. The number in each grid cell is minutes since that iPad mini/Apple Store combination was last checked. You can click on the cell contents to check current status. Green means it was available at the last check, red means it was not. White means we have not checked that combination (i.e. no one has requested a check of that combination).
While useful, the site has been showing sporadic error messages over the past few hours, though its data appears to be accurate when compared to the Online Apple Store. It should also be noted that not all U.S. stores are represented in the graph, which is provided as a public service by the website's owners.
As for why the sea turtle-centric Web entity has such a tracker, the site explains, "Because we are Apple fanboys and we want to know when our favorite iPhone model will be available! Also, SEATURTLE.ORG runs on Apple products. From the Xserve that powers this website, to the iMac where most of the programming happens, and the iDevices that allow us to keep tabs on the sea turtle world from where ever we are."