Rumor: Supplier now building 12.9-inch Apple iPad displays for early 2014 launch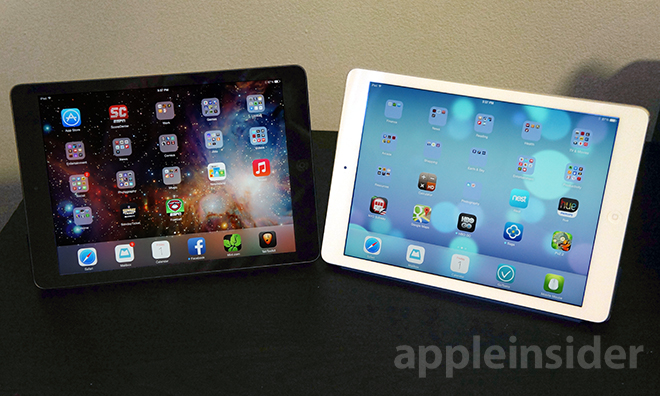 A "first-tier display supplier" is building 12.9-inch Retina displays for use in a new jumbo-sized iPad set to launch in early 2014, a new report out of Korea claims.
The iPad Air is currently Apple's largest tablet with a 9.7-inch display.
The details were reported on Tuesday by The Korea Times, which cited an official at a local Apple supplier in Korea. According to the unnamed source, the 12.9-inch Retina display is currently being manufactured in the country as Apple gears up for a launch in the coming months.
Apple is said to be "increasingly interested" in building a bigger iPad, as the company sees that tablets will continue to replace traditional PC form factors. The unnamed source also reportedly said that the new iPad will have improved picture quality on par with "ultra high-definition" displays.
Tuesday's latest report is not the first to hint at a bigger iPad, nor is it the first to give a specific 12.9-inch screen size for such a device. Another rumor from earlier this month claimed that Foxconn was testing production of a larger-screened iPad for a spring 2014 release.
Such reports are not limited to overseas publications, either. The Wall Street Journal claimed in July that Apple has been toying with larger screen sizes on its best selling devices, exploring the possibility of both a 13-inch iPad and an iPhone with a larger display for launch in the next year.
Specifically, the Journal claimed in July that Apple has built a prototype iPad with a screen sized "slightly less than 13 inches diagonally." A 13-inch iPad would put it in a similar class with the MacBook Pro and MacBook Air, both of which are available with 13.3-inch screens.
Noted insider John Gruber of Daring Fireball said in May that he expects Apple to release an iOS-based notebook "eventually" — speculation that may align with Apple's alleged interest in a 13-inch touchscreen panel. Gruber said he does not, however, expect Apple to ever release a touchscreen MacBook.
Reports of a larger iPad model could also align with details first reported by AppleInsider in September on a new mystery product apparently intended to use a 17-watt power supply. People familiar with the matter said that Apple recently began the process of procuring low-cost components for the new 17-watt adapter, which would provide more juice than is necessary for the iPad Air, but significantly less than is required to power the company's MacBook Air lineup.
The naming of the new iPad Air has also helped to fuel speculation that Apple could be setting the stage for a so-called "iPad Pro," geared toward professional users and intended as a more full-fledged notebook replacement.