Rumor: Apple field testing 'iPhone 6' with 4.9-inch display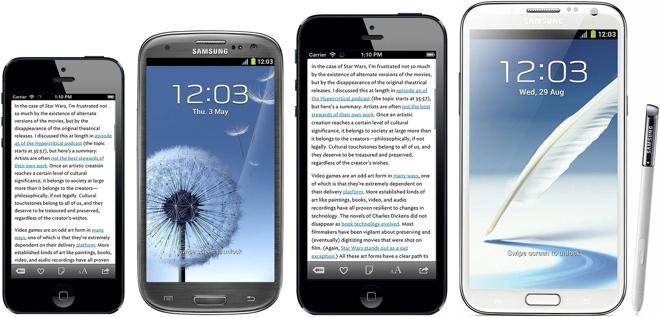 Apple has begun field trials of a next-generation iPhone sporting a larger, 4.9-inch display, according to new information from one popular tech-focused Far East website.
Mockup of iPhone with 4.94-inch screen, created by Marco Arment.
The report, from hit-and-miss Chinese blog C Technology, conforms with prior assertions from well-connected Taiwanese analyst Ming-Chi Kuo of KGI Securities. Kuo had previously predicted that 2014 would bring an Apple-branded handset with a 4.5-inch to 5-inch display.
Kuo does not believe the Cupertino, Calif.-based company will extend the iPhone display beyond the 5-inch diagonal mark due to their "unwavering principle of one hand use."
Not much is known about the so-called "iPhone 6," with Apple just two months removed from the release of its newest flagship iPhone 5s and mid-range iPhone 5c. Speculation has thus far centered mainly on the display, with Bloomberg reporting earlier this month that two new models featuring larger displays and cover glass that curves around the device's edges may be in the offing for a late 2014 release.
The Bloomberg report came on the heels of a September missive from Japanese magazine Mac Fan which claimed Apple's next-generation handset would feature a 5-inch display with a 1,920-by-1,080-pixel resolution. That report also tipped thinner bezels for the smartphone.
Many industry observers believe that Apple must increase the size of the iPhone's display in order to better match up with larger-screened devices from competitors like Motorola and Samsung whose displays routinely exceed 5 inches, with some as large as 6.3 inches on the diagonal. Apple is known to take a cautious approach to changes such as these in order to avoid the ecosystem fragmentation that plagues rival mobile platform Android.