Apple's iPhone 5s, 5c take 76% share of Japanese sales in October, including 61% on NTT DoCoMo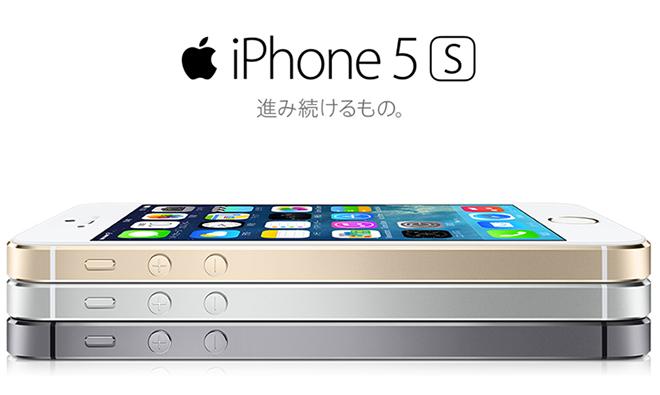 AppleInsider is supported by its audience and may earn commission as an Amazon Associate and affiliate partner on qualifying purchases. These affiliate partnerships do not influence our editorial content.
Apple's new iPhones are big in Japan, taking a 61 percent share of NTT DoCoMo smartphone sales and a 76 percent share of overall sales during the month of October.
The statistics, reported by Kantar World Panel via Twitter, indicate strong demand for the new phones both across Apple's existing carrier partners and the country's largest carrier, one that just began carrying iPhones this season after years of losing subscribers while backing alternative devices from Samsung.
KWP ComTech Japan: #Apple takes 76% share of Japan Smartphone sales during October, including 61% on #NTT DoCoMo

— KWP ComTech (@KWP_ComTech) November 26, 2013
NTT DoCoMo lost 3.2 million users over the past four and a half years as rivals SoftBank (Apple's original partner) and KDDI stole away its customers. Carriers on both sides credited (or blamed) Apple's iPhone for the migration of subscribers.
Intense competition between the three major carriers at the launch of the new iPhone 5s and 5c resulted in blockbuster sales, despite increasingly strident efforts by Samsung to market its phones as serviceable alternatives this summer.
Japan never hated the iPhone
Japan's embracing of Apple's latest products comes nearly five years after Wired published an article by Brian X Chen that sought to establish that the Japanese market "hated" the iPhone because Softbank was offering it with promotional pricing.
The piece cited a journalist in Japan as praising the nation's domestic products by local firms such as Panasonic, and attributed to him comments that called the iPhone "an outdated handset compared to Japanese cellphones" and said it would make a person look "pretty lame" to carry one around. "I think most Japanese think iPhone is the coolest item. At least I have and love iPhone," Nobi Hayashi
However, Nobi Hayashi, the journalist cited by Wired, subsequently clarified that he didn't make the comments attributed to him, and actually had explained to Chen that the desired narrative he has selected for the story in advance of writing it was mistaken.
"I think most Japanese think iPhone is the coolest item. At least I have and love iPhone," Hayashi wrote. Wired later issued a correction, after first editing Chen's article multiple times to change the attribution of various quotes. It finally admitted that Chen made up the "pretty lame" quote himself.
Wired wasn't alone in crafting a story about Apple's supposed failure in Japan. Hayashi noted that local newspaper Sankei Shimbun had tipped off reports by publishing an expectation that Softbank would sell one million iPhones during its initial launch period, even though neither Apple nor the carrier had made any prediction of sales.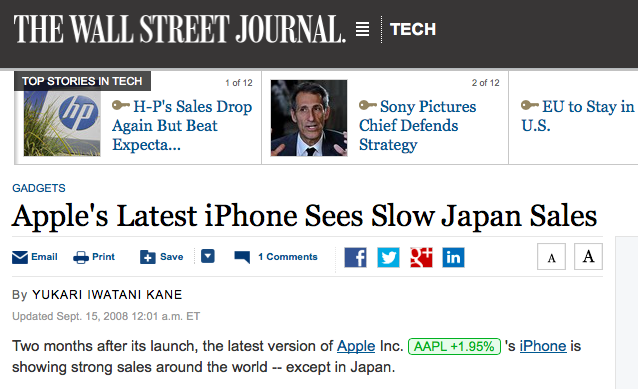 Prior to Chen's article, Yukari Iwatani Kane, writing for the Wall Street Journal, cited numbers from MM Research and quoted an analyst as saying, "the iPhone is a difficult phone to use for the Japanese market because there are so many features it doesn't have."
Kane also discussed lofty sales expectations from unnamed analysts who were said to "widely believe sales are unlikely to reach a total of 500,000 units. That is half the one million units that they previously thought Apple could sell."
Kane even dismissed the iPhone's App Store, writing that it "hasn't taken hold as much in Japan, where consumers tend to be more cautious about making purchases online," but offered no factual basis for that claim. In reality, the App Store has seen tremendous success in Japan from the begining.
The Wall Street Journal report was widely syndicated despite being inaccurate and misleading, and helped to create a longstanding meme that "Japan hates the iPhone," an idea Wired helped to advance for additional months.
By early 2010, MM Research was reporting that Apple was selling 72 percent of all smartphones in Japan.