Review: Friends of Hue Bloom Lamp and LightStrips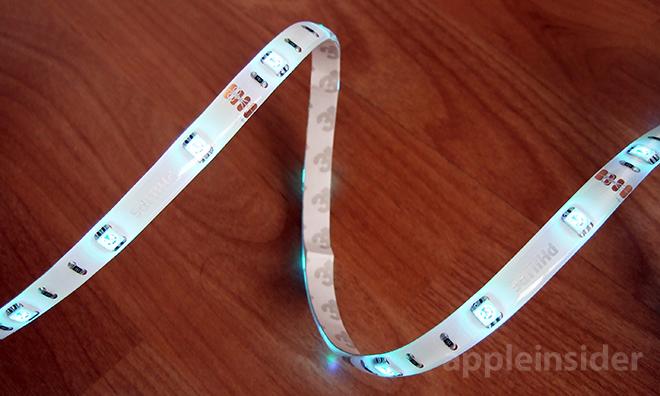 ---
AppleInsider may earn an affiliate commission on purchases made through links on our site.
Philips has expanded its wireless light product line with the Friends of Hue series, the first offerings being a lights strip and accent lamp that, like the original Hue bulbs, can be controlled remotely, change color and are expensive.
Philips has seemingly hit its stride with the Hue wireless lighting system and is rolling out what can be considered accessories to the bread-and-butter Hue smart bulbs. The initial Friends of Hue lineup consists of the LivingColors Bloom, a small standalone spotlight lamp, and LightStrips, which is basically a row of LEDs embedded into flexible adhesive strip.
As with the Hue Starter Kit, Friends of Hue products are expensive. They are not impulse buys and users need to consider their limitations before snapping up a set simply because they interface with the existing Hue ecosystem.
In this review, we'll take a look at the Bloom and LightStrips side-by-side. Completely different animals from the Hue bulbs, the two add-ons have more in common with each other than Philips' original smart lighting setup.
Design
The Bloom and the LightStrips are made from high quality materials that appear to be resilient and nice to look at even though most installations would hide them from sight.
With the Bloom, for example, the base of the unit is crafted from plastic, while the upper portion is made from a ceramic of some sort, making it lightweight and easy to hide behind bookcases or place up high for artwork illumination. The base itself is already pre-angled, meaning users can't adjust where the spotlight shines without getting creative.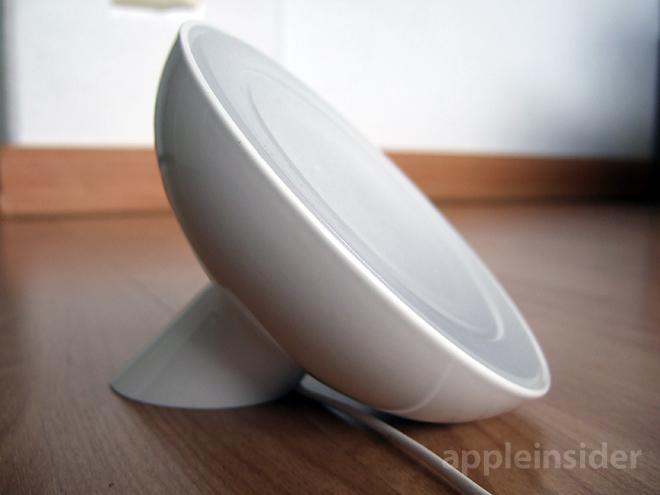 Beneath the translucent plastic covering, which also serves as a diffuser, Bloom has a three-LED array similar to the Hue light bulb. The modules themselves are spread fairly wide apart, allowing for a better coverage area, but this also means colors won't mix as seamlessly.
As for the LightStrips, think of the flexible light ropes from the disco-era, but swap in high-efficiency, high-output LEDs and slim down the profile. There isn't much in the way of design going on here, as LightStrips were made to be hidden underneath bar counters, behind TVs or rimming wall mouldings.
Each 2-meter strip is backed with an adhesive tape for sticking to almost any surface, even porous materials like wood.
Setup
Both products are designed as go-alongs to the Hue smart lighting system and as such can be set up and controlled via the free iOS app. The system, which we went over in a previous review, revolves around a ZigBee wireless standard bridge that automatically detects additional lights when they are plugged in. With Bloom and the LightStrips, the process is no different.
When we plugged in both lights, they immediately faded up to a default color and cycled through a number of preset shades before turning off.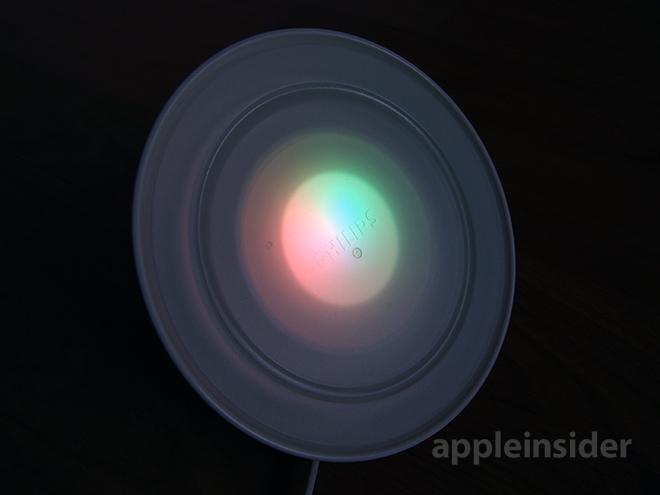 Placing the Bloom is self-explanatory. Face it toward a wall or object that you want illuminated, plug it in, adjust positioning and you're done. The LightStrips proved to be a bit more tricky.
Because of its design, the LightStrips can be trimmed down to size by cutting off any excess LEDs. While this is great to get a truly customized look, say around a television set, a lot of LEDs can go wasted. There is only one power and communications module, which is located at the power adapter side of the strip, meaning anything you cut off will be rendered useless.
This brings us to a very important point regarding LightStrips and Bloom use: deviations in LED color output.
In use
Cutting LightStrips down to size is one thing, but we found the LEDs on one strip may not be exactly match to another. This causes problems when running a long installation, such as the TV setup below.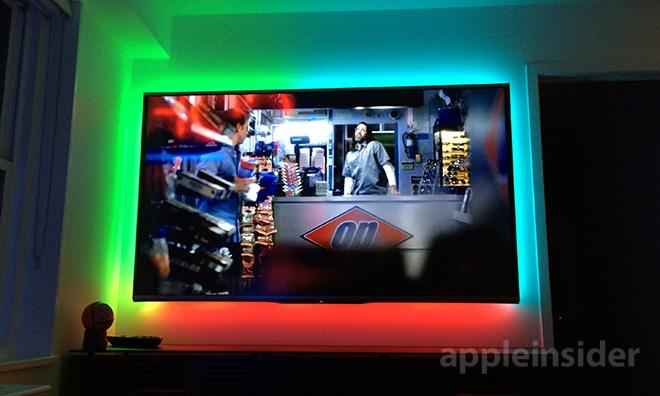 While the multiple colors are great for adding ambiance to a TV show, the differences in color temperature are jarring when using the same color on multiple LightStrips. The effect is nothing like Philips' Ambilight HDTVs, which feature backside LEDs that reproduce on-screen colors to pull them past the borders of the TV and into a room. Ironically, Hue is compatible with Ambilight, though it appears the more accurate bulbs may be a better fit for the tech.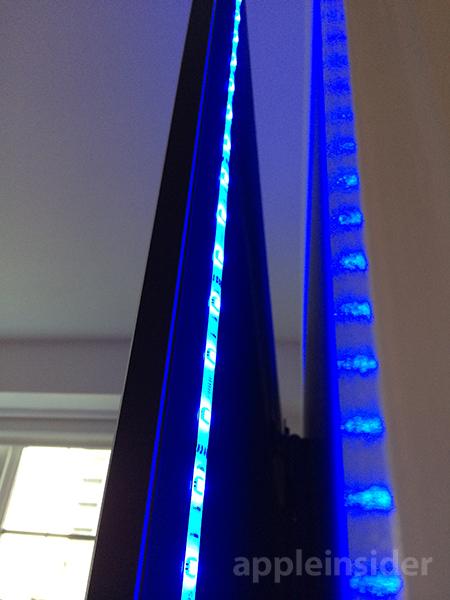 We asked Philips about the color inconsistency and a representative said Friends of Hue products are designed to be color accent lights. While the company ensures high quality light, the Bloom and LightStrips are not meant to be as accurate as the regular Hue bulbs.
As mentioned in our Hue review, the bulbs are calibrated to less than 5 SDCM (standard deviation of color matching), with changes in color being just perceptible to the human eye. With Friends of Bloom, Philips lowers that standard to a much less impressive baseline of 20 SDCM. Because of the different role they play in the system, Friends of Hue are by design less accurate in reproducing identical colors, the company said.
We didn't see as much of a difference in color with the Bloom unit, but it was admittedly much less powerful at a rated 120 lumens, compared to the Hue bulb's 600 lumens. The LightStrip does not specify an output rating, probably because users can snip down the strip, but the LEDs were powerful enough to compete with regular room lighting.
Accuracy issues aside, both units do add touches of color that are surprisingly effective. Most prominent at nighttime, the lights can be easily seen in daylight as well. We also found the color picking tool in Hue's app, which lets users manage the Bloom and LightStrips' output, to work with a precision identical to that found with the wireless light bulbs.
In addition, both products can be added to existing light recipes, or can be assigned their own automated functions separately.
Conclusion
Taken as a whole, we can recommend the Bloom and LightStrips combo to existing Hue users, albeit with some caveats. Friends of Hue doesn't offer the same high-quality light reproduction found in Hue light bulbs, and as such careful consideration is required when planning out an install.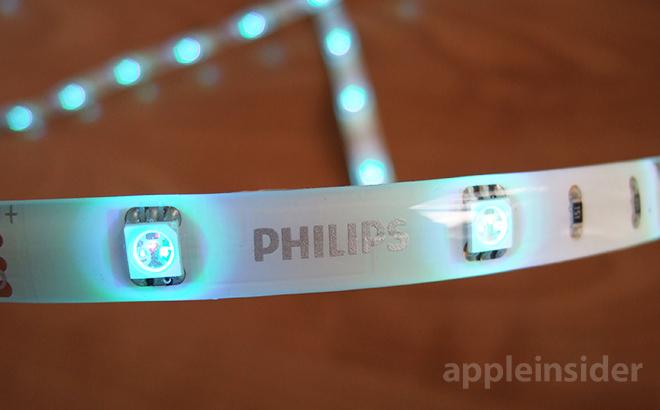 While some people may not notice or care about the LightStrips' slight deviations in color, others will instantly spot the difference. For single-strip applications, the higher SDCM is fine. But for longer runs using multiple LightStrips, the change immediately shatters the illusion of having one long strip, which to us looks tacky.
For those just jumping into the Hue ecosystem, the Bloom and LightStrips are less than optimal for the price. Remember, people who don't already own Hue will have to buy the wireless bridge to communicate with the lights, an expense added to an already high cost of entry.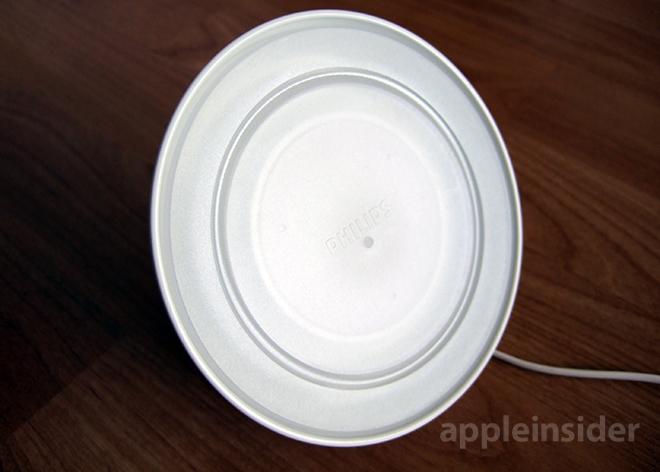 Score: 3 out of 5 (Combined score for Bloom and LightStrips)

Pros:
Color accents add to a room's ambiance
Scalable LightStrips offer more lighting options
Advanced automation via Hue app
Cons:
Expensive
Inaccurate colors
Needs Hue bridge to operate