Black Friday propels iPad Air growth by 51%, iPhone 5c surges 26%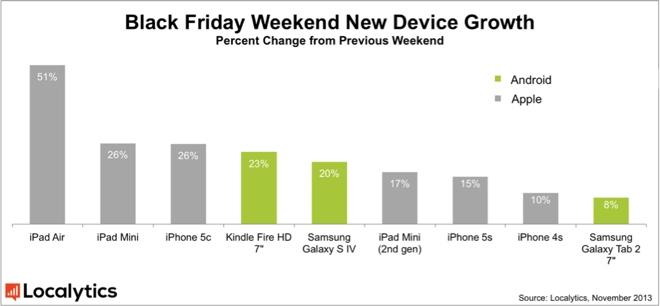 AppleInsider is supported by its audience and may earn commission as an Amazon Associate and affiliate partner on qualifying purchases. These affiliate partnerships do not influence our editorial content.
New data suggests Apple saw huge sales of the iPad Air and iPhone 5c from Black Friday sales, with an analytics firm seeing a massive growth spike for both devices over the holiday shopping weekend.
The latest data from Localytics found that traffic from the iPad Air grew 51 percent this past weekend, compared to the previous weekend. That was by far the largest growth seen in new devices tracked.
The particularly strong performance for iPad Air is attributed not only to Black Friday sales, but also because of a relatively small install base, as the latest full-size iPad has been available for just around one month.
Tied for second in Localytics' data were two more Apple devices: the new plastic iPhone 5c, as well as the first-generation iPad mini. Both represent more affordable options in Apple's product lineup, with the iPhone 5c selling for $99 with a new two-year service contract, and the legacy iPad mini available for $299.
The surge for all three Apple devices is not surprising, as each of them were discounted at various retailers for Black Friday and Cyber Monday promotions.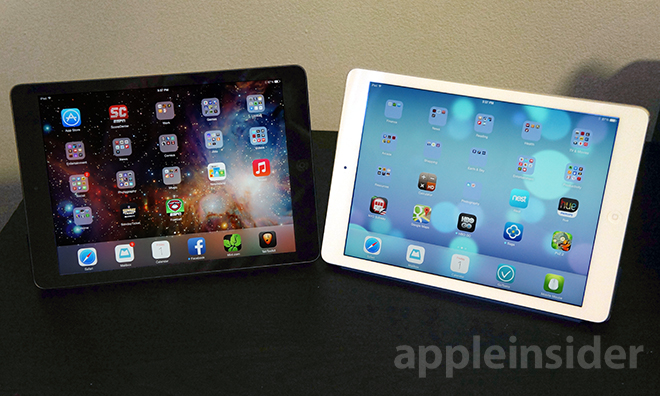 That may also explain why the Apple's flagship smartphone, the iPhone 5s, and the second-generation iPad mini did not see as significant of a spike. The iPad mini with Retina display saw its online presence grow 17 percent weekend over weekend, according to Localytics, while the iPhone 5s grew 15 percent. Neither device was as heavily discounted for Black Friday.
Rounding out the top Apple devices tracked by the firm was the iPhone 4S, which saw its weekend traffic grow 10 percent after black Friday. The iPhone 4S is available for free with a two-year cellular contract.
Localytics' data included nine devices in total, six of which were the aforementioned Apple products. The highest-ranking non-Apple product was the Kindle Fire HD, which grew 23 percent over the shopping weekend and took fourth place. It finished just ahead of the fifth-place Samsung Galaxy S IV, which grew 20 percent.
Finally, taking ninth was the 7-inch Samsung Galaxy Tab 2, which saw its online presence grow 8 percent following Black Friday.