Apple spent $60 million on Samsung suit, attempts to recoup $15.7 million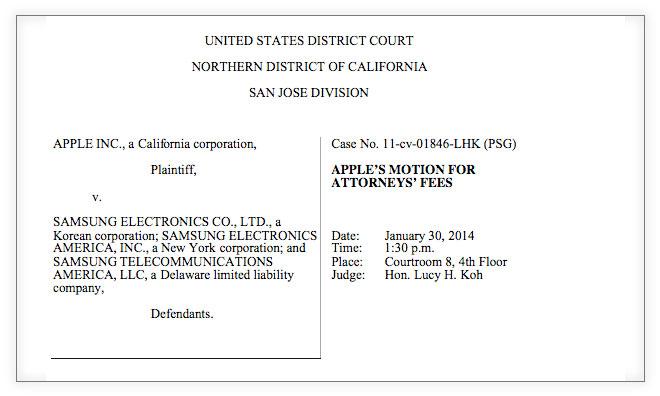 AppleInsider is supported by its audience and may earn commission as an Amazon Associate and affiliate partner on qualifying purchases. These affiliate partnerships do not influence our editorial content.
Apple on Friday filed a motion in U.S. District Court seeking to recover nearly $16 million of its $60 million in attorneys' fees related to the company's long-running patent infringement lawsuit against Samsung.
The iPhone maker arrived at the $15,736,992 sum — Â which represents just over one-quarter of Apple's total outlay — Â by asking only for fees directly related to the company's prosecution of Samsung's "willful, deliberate, and calculated copying of Apple's iPhone." No fees for defense against counterclaims by Samsung are included, nor are fees related to November's retrial in which a jury awarded Apple an additional $290 million in damages.
As noted by legal analyst Florian Mueller of FOSS Patents, requests for an award of attorneys' fees are common, but are rarely granted. Apple claims their request is warranted due to the "exceptional" nature of the case:
Under any measure, this was an exceptional case. The evidence that Samsung deliberately copied every aspect of Apple's revolutionary iPhone product was overwhelming. Apple prevailed on one or more claims of trade dress dilution or patent infringement against 26 of 28 accused products. A jury found that Samsung willfully diluted Apple's protected trade dresses and willfully infringed five of the seven asserted patents. The original trial and partial damages retrial juries awarded Apple $930 million for Samsung's violation of Apple's IP rights. Apple also scored a complete victory in its defense of Samsung's claims.
Given Samsung's blatant disregard of Apple's IP rights, Apple should not be forced to bear the full expense of prosecuting its claims.
In support of its request, Apple reiterates in the motion that Samsung's infringement was found to be "a willful, deliberate, and calculated effort to gain market share by copying the iPhone." This finding — Â by two juries — Â along with Samsung's enormous financial benefit is enough to qualify the case as "exceptional" and for the court to grant the award as it is allowed to do in that circumstance, the Cupertino, Calif.-based company argues.
Providing a glimpse into the financial distribution of a case of this magnitude, a bill of costs filed alongside the motion indicates that nearly half of the $15.7 million request is earmarked for expenses, rather than billable hours from attorneys at Morrison & Foerster LLP, the firm retained by Apple for the suit.
Among the $6,256,435.10 in expense charges:
$811,196.59 for printed or electronically recorded transcripts
$5,147,841.01 for exemplification and the costs of making copies
$297,397.50 for compensation of interpreters and costs of special interpretation services