Promise Technology ships 'world's first' 20Gbps Thunderbolt 2 drives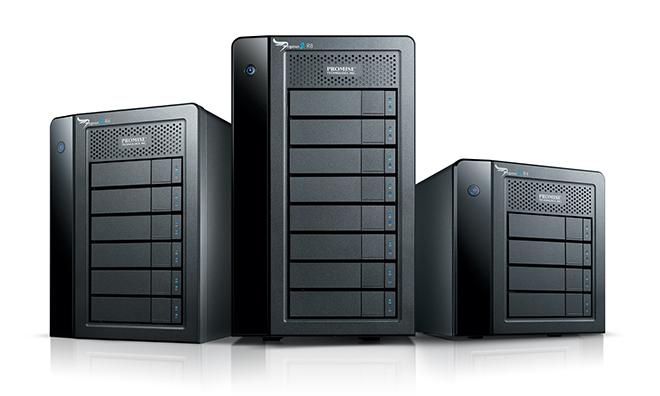 Promise Technology on Wednesday announced its new Pegasus2 RAID arrays are now shipping, bringing one of the first Thunderbolt 2-equipped storage solutions to market for high-powered computers like the upcoming Mac Pro.
The new direct attached storage enclosures offer speeds up to 20Gbps thanks to the Thunderbolt 2 transfer standard, which is being included on Apple's latest Mac desktops and laptops. Promise first unveiled the Pegasus2 in October.
With the high-speed Thunderbolt 2, Promise says Pegasus2 can handle high-bandwidth 3D and 4K video files and other data-intensive applications like CAD engineering, CAE Auto Design and professional IT workgroups, among others.
In addition to 20Gbps speeds with current Macs, the Pegasus2 accelerates throughput when attached to the Mac Pro, which should be released before December is out.
Pegasus2 comes in 4-bay, 6-bay and 8-bay RAID enclosure configurations with maximum capacities of 8TB, 12TB, 18TB, 24TB and 32TB. Retail prices start at $1,499 and go to $4,599, but a couple of Apple Authorized Resellers listed in AppleInsider's Storage Price Guide are offering discounts on the new RAIDs, with the added benefit of B&H only charging sales tax on orders to NY and MacMall only on orders to CA, NY, IL, WI, MN, CO, TN, NC and GA:
Thunderbolt 2 doubles the throughput of its predecessor by using a new controller that combines the first-gen's two 10Gbps uni-directional channels into a single 20Gbps bi-directional channel. The new standard is backwards compatible and supports DisplayPort 1.2, enabling video streaming to one 4K monitor, or dual QHD displays.