Spotify for iPhone, iPad goes subscription-free, with shuffle-only limitation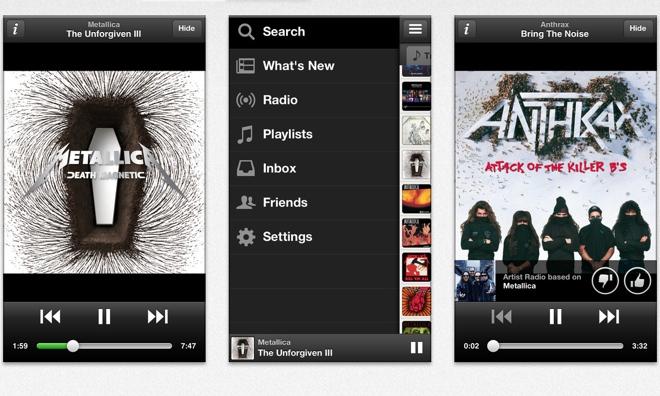 Streaming music service Spotify announced on Wednesday that iPhone and iPad users can now access its content without having to pay for a subscription, though there are restrictions on how music can be played from a mobile device.
When using the official Spotify app for iOS, users can now access "shuffle play" of their favorite artists without a paid subscription. With what's being called Spotify's "free mobile experience," users can access playlists and artists, though they cannot be played in a set order.
When selecting an artist, their entire catalog can be played for free using the shuffle play mode. That's different from Apple's iTunes Match and Pandora, two streaming services that allow users to search for an artist and then play songs by similar artists in a personalized Internet radio station.
Spotify's free service also allows users to listen to the playlists they and their friends have created in shuffle mode, and new playlists can also be discovered through the app.
Previously, any user who wanted to access Spotify on their iPhone, iPad or other mobile device needed to have a paid subscription to the service. Now, users can access ad-supported content, albeit in a more limited form, without paying any fees.
Spotify first signaled in February of this year that the company was interested in bringing free ad-supported music streaming to its iPhone app. At the time, the company was reportedly renegotiating its licensing agreements with the recording industry for expanded use.
Concurrent with Wednesday's announcement, Spotify also revealed that content from legendary rockers Led Zeppelin is now available from the streaming service. The longtime digital holdouts first debuted their content on Apple's iTunes Store in 2007.
The last major update to Spotify for iOS users came in July, when the company's "Discover" feature came to mobile devices. It allows users to receive endless recommendations based on the music they listen to, as well as new single and album releases, as well as tour dates, from artists they follow.