Apple redirects iAd sales team to iTunes Radio, eyes self-serve for in-app ads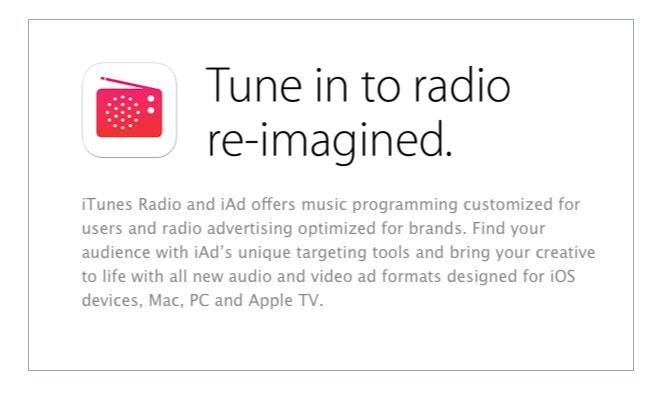 Apple has reportedly shifted its iAd sales team's focus toward bringing in advertisers for the nascent iTunes Radio service, with plans to move the company's advertising business to a new real-time bidding system.
Eddy Cue, Apple's software and services chief, is said to have personally handed down the order to key in on iTunes Radio inventory, reports AdWeek. The turn-about comes just days after former terrestrial radio marketing executive Michael Pallad's appointment as head of iTunes Radio's international sales team.
Rumors of a strategic shift for iAd's sales force began even before iTunes Radio was officially announced. A June missive from Bloomberg carried word of the alleged change and indicated that Apple CEO Tim Cook was searching for ways to increase iAd's revenue in the face of stiff competition for display advertising dollars from rival Google.
iTunes Radio, which debuted alongside iOS 7 this summer, has ramped up its listener base relatively quickly — Â 20 million users had streamed more than 1 billion songs just one month after the service's release — Â but has yet to catch up to established players like Pandora and Rdio in the streaming audio space, a market which is suddenly red hot. In addition to Apple, Google, Pandora, and Rdio, Stockholm-based Spotify threw its hat in the ring last week when it announced free, ad-supported streaming on mobile devices.
Advertisers, including Nissan and McDonald's, were rumored to pay up to $10 million to gain exclusive access to their category's advertising inventory on iTunes Radio at launch, and new campaigns are said to begin at $1 million.
iAd's display advertising business, however, has struggled. Despite Apple's loftier customer demographics and iAd's status as the first major mobile ad network to secure Media Ratings Council accreditation, in-app advertising rates on the service have steadily declined from a reported minimum $1 million commitment at launch to just $100,000 today.
Apple reportedly hopes to reverse iAd's in-app fortunes by moving to a self-serve, real-time bidding system. A real-time bidding system would allow advertisers to more effectively and efficiently target their ads while possibly making Apple's service more financially accessible to smaller advertisers.