Apple's 64-bit A7 SoC 'set off panic' for chipmakers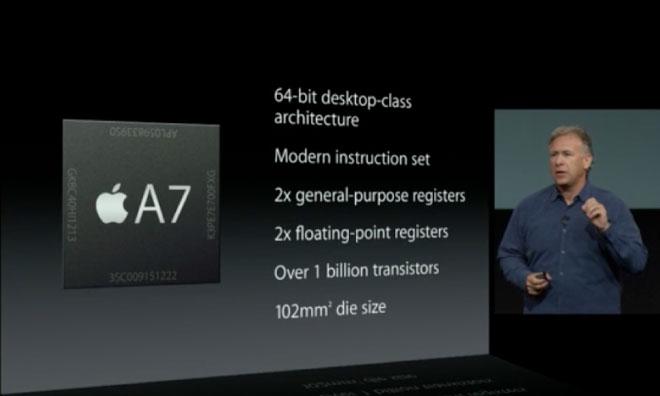 AppleInsider is supported by its audience and may earn commission as an Amazon Associate and affiliate partner on qualifying purchases. These affiliate partnerships do not influence our editorial content.
Apple caught market-leading chipmakers off guard when it debuted the 64-bit A7 system-on-chip alongside the iPhone 5s in September, a move one Qualcomm insider says put the industry in panic mode.
In a report from Dan Lyons' blog HubSpot, an unnamed source at chipmaking giant Qualcomm said Apple's A7 "hit us in the gut," referring to the silicon's support for 64-bit processing.
"Not just us, but everyone, really," the person said of the surprise Apple's chip caused. "We were slack-jawed, and stunned, and unprepared. It's not that big a performance difference right now, since most current software won't benefit. But in Spinal Tap terms it's like, 32 more, and now everyone wants it."
Apple's A7 SoC holds the distinction of being the first 64-bit application processor to be used in a smartphone. Up until the iPhone 5s was unveiled, companies didn't see the need to include such an advanced processor in a handheld mobile device as apps were not able to take advantage of the extra horsepower. Even now, only a few programs outside of Apple's own stable are capable of addressing the technology.
"The roadmap for 64-bit was nowhere close to Apple's, since no one thought it was that essential" - unnamed Qualcomm insider.
"The roadmap for 64-bit was nowhere close to Apple's, since no one thought it was that essential," the source said. "The evolution was going to be steady. Sure, it's neat, it's the future, but it's not really essential for conditions now."
Apple managed to keep the A7 a secret until the iPhone's unveiling in September, quite an achievement considering the abundance of parts leaks leading up to the event.
At the time of the A7's release, Qualcomm's former chief marketing officer Anand Chandrasekher pooh-poohed the prospect of a 64-bit smartphone chip, saying of Apple, "I think they are doing a marketing gimmick. There's zero benefit a consumer gets from that."
Less than a week later, Qualcomm clarified its stance on the issue and called Chandrasekher's comments "inaccurate." The ex-CMO was ultimately removed from his post and reassigned.
With the mass-produced 64-bit A7 AP in the wild, powering the iPhone 5s, iPad Air and iPad mini with Retina display, the insider views Apple as being at least one year ahead of the competition, maybe more. Despite having the tech on a roadmap, chipmakers can't turn on a dime and moving their prospective timelines forward on such short notice will be challenging.
For example, Samsung, the foundries of which Apple uses to manufacture the A7, announced in November that it will be offering its own 64-bit Exynos chips sometime in the future. The Korean giant was mum on tentative release date, however.
"Apple kicked everybody in the balls with this," the Qualcomm employee said. "It's being downplayed, but it set off panic in the industry."