Tweetbot for Mac fixes numerous usability bugs with latest update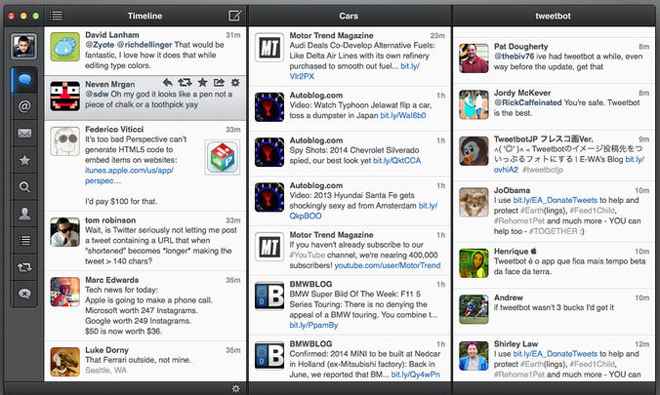 Popular Twitter client Tweetbot on Friday received a host of bug fixes for its Mac app, including patches for unreliable image handling in direct messages and issues pertaining to unread feed items.
Coming a little over one month after its last update, Tweetbot for Mac version 1.4.1 resolves a number of issues having to do with usability and overall reliability.
The latest Tweetbot iteration fixes an issue in which users would receive the usual notification of unread feed items — represented as a top banner in the feed pane — but could not scroll up to see them. Another fix deals with images in direct messages, which would not load for some users.
Also included are patches for app hangups related to iCloud syncing or audio playback, as well as a minor bug that would cause the Tweetbot window to move from a secondary to a primary monitor after restarting the app.
Developer Tapbots first brought OS X 10.9 Mavericks support to Tweetbot in the previous version 1.4, allowing users to take advantage of the new operating system's Notification Center by integrating replies to tweets and direct messages into notification pop-up windows. The solution is much like Apple's implementation seen in its own Mail and Messages apps.
Tweetbot for Mac is a 5.3MB download and can be purchased for $19.99 from the Mac App Store. In addition, Friday is the last day of Tapbots' Tweetbot for iOS sale, which has the app priced at $1.99, down from the usual $2.99.