Martin Scorsese's Oscar winning film 'Hugo' is Apple's latest free gift in US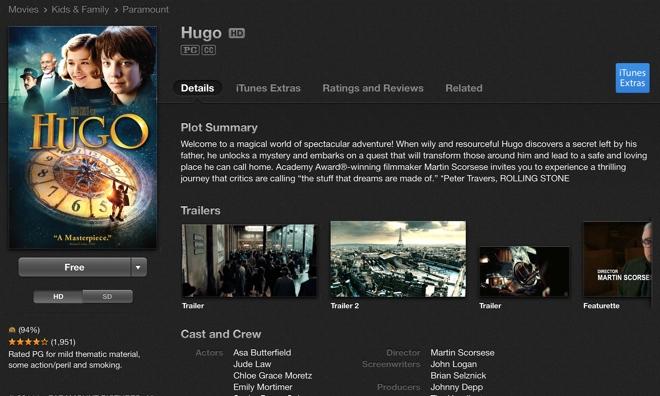 Apple's "12 Days of Gifts" continues to roll on, with Monday's offering of critically acclaimed film "Hugo" marking the fifth free item offered to users in the United States, while those in the U.K. can instead download the holiday classic "Home Alone."
Each day's gift can be discovered by using Apple's official 12 Days of Gifts app available for iPhone, iPad and iPod touch. Users can download Monday's free gift, Hugo, direct from iTunes for free without installing the iOS app.
Rated 94 percent on Rotten Tomatoes and a winner of five Academy Awards in 2012, "Hugo" is a love letter to cinema from acclaimed director Martin Scorsese. An adaptation of the children's book "The Invention of Hugo Cabret," the 2011 film stars Asa Butterfield, Jude Law, Chloe Graze Moretz, Emily Mortimer, Sacha Baron Cohen, and Ben Kingsley.
The two-hour, six minute film is available in high definition 1080p or 720p, as well as standard definition. The free offering also comes with iTunes Extras content, including "Shoot the Moon (The Making of Hugo," which features interviews with the cast and crew.
Apple offers different gifts to users across the globe, meaning Monday's offering of "Hugo" is limited to those in America. U.K. users, for example, receive a free copy of the film Home Alone as their free gift on Monday.