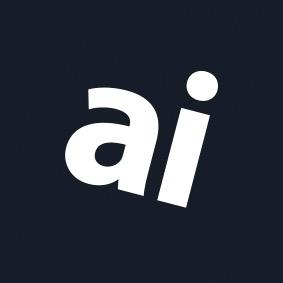 Why you can trust AppleInsider
Review: mPact Glass screen protector for iPad Air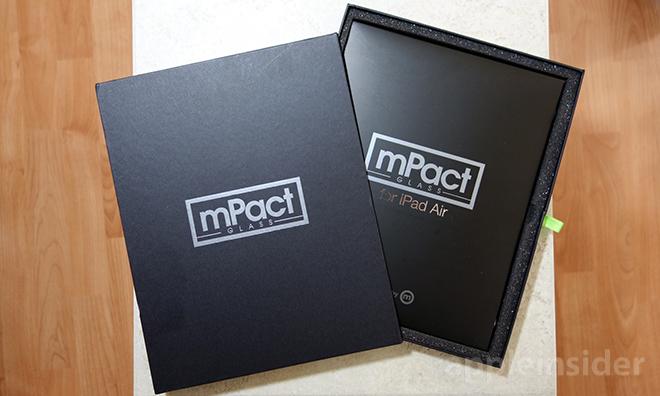 mPact Glass screen protector for iPad Air
4.0 / 5
---
Startup firm "designed by m" has released a series of iOS device screen protectors called mPact Glass, an anti-scratch tempered glass shield that supposedly boasts higher light transmission than competing products.
With the proliferation of Apple's high-resolution touchscreen portables like the latest iPhone 5s and iPad Air, a growing number of screen protector manufacturers have started to move toward glass as a premium substrate offering. Compared to plastic or other composite materials, tempered glass is hard, scratch resistant and — most importantly — highly transparent.
Design
As with other glass protectors in its class, mPact is thin at 0.4mm. Unlike competing products, however, the unit's edges are chamfered to blend in with the iPad Air's aesthetic. This design also serves to deflect objects that may come into contact with the protector, which happened more frequently than we anticipated.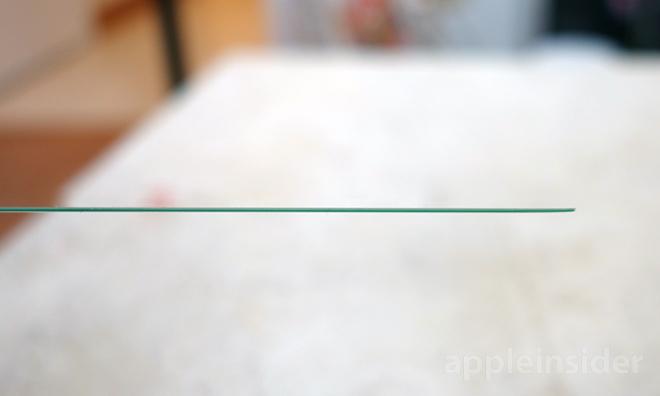 Apple designs its iOS devices to withstand everyday bumps and bruises by keeping their screens substantially flush with surrounding structures. For example, the most recent iPhone 5s employs a thin plastic insulating layer that curves around the phone's display, which sits slightly above the unibody chassis. In previous models, the screen was wrapped in a rubberized gasket-like component that helped reduce sharp side or corner impacts.
Adding a layer of glass — no matter how thin — to the top of Apple's design will inevitably lead to that layer being scraped, we learned. The iPad's chamfered bezels deflect incoming objects up and away from the screen, directly into mPact's own chamfered edges. We did see a few hairline scratches on the protector's edging after a week of use, but we believe there would have been substantially more damage if not for the beveled design.
Aside from its chamfering, mPact is much like competing tempered glass products on the market. We will say that the fit was better than most and almost exactly covered the iPad Air's display.
According to the specs, mPact comes coated with a variety of films, including antibacterial, anti-fingerprint, oleophobic, anti-glare and UV cutting layers. On the underside is an adhesive that applies clear without leaving a sticky residue.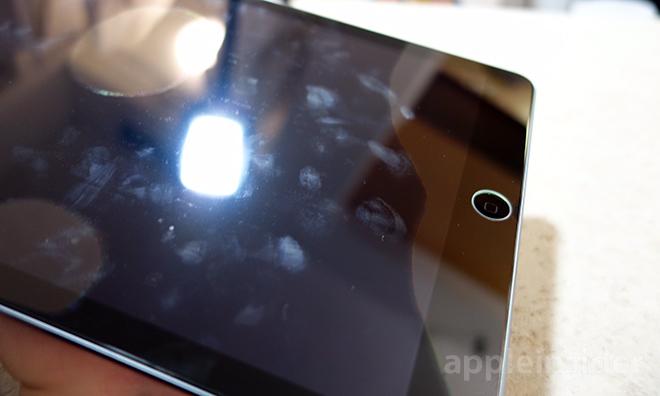 Inside the package are four acrylic-coated home button stickers in black and white; two with the familiar home button symbol and two without. The button set is domed and as such we removed them after only a short time, finding it too easy to activate inadvertently. Without the stickers, however, the home button becomes a crater that quickly collects debris.
Installation and use
Out of the box, mPact is covered on both sides by sheets of thin plastic film, which are removed one-by-one during installation.
First, we used the included swab and microfiber cloth to clear the iPad's display of dust and debris. Next, the first film was peeled back to expose mPact's adhesive backing, and the glass was positioned over the iPad's screen. Readjustment is possible prior to initial installation, but once mPact is applied with the applicator card, removing it weakens the adhesive bond. Once everything is in place, the second outer film can be removed.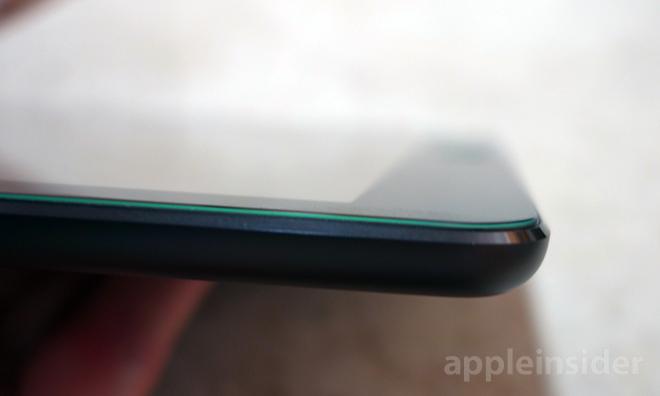 While we had no issues with trapped air pockets, designed by m's instructions said that occurring bubbles should disappear within 48 hours as the glass settles into place.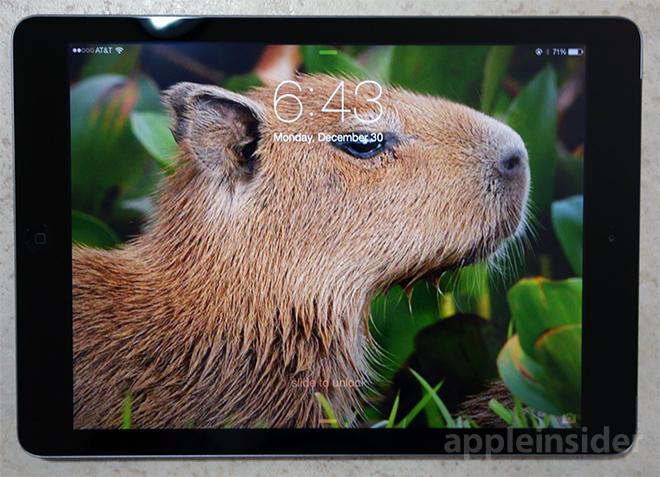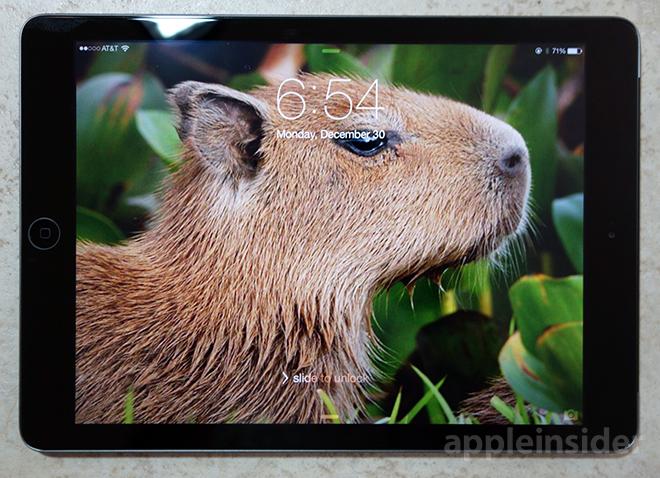 Most impressive about mPact's design and material choice is the resulting clarity. We've tried a huge number of screen protectors and only a few high-priced models like the ScreenGuardz Pure come close to mPact's light transmission and color fidelity.
In use, there was no "rainbowing" or light refraction to be seen, a common quibble we have with plastic or composite protectors. As seen in the above photos, the stock iPad Air's display (top) is just as bright and colorful after mPact is installed (bottom).
We had no issues with touch screen responsiveness, though the glass didn't have as smooth a draw as Apple's stock screen, nor was it less reflective despite its anti-glare coating. Fingerprints were visible after repeated use, but no more so than usual.
One problem with many glass screen protectors, mPact included, is that the material's thickness interferes with the magnetic bond between an iPad and a Smart Cover. The extra half millimeter puts the cover on the very edge of the magnets' attractive force, causing it to sometimes flap open under its own weight. While not a major issue, it does detract from Apple's Smart Cover design and is something to think about before purchasing.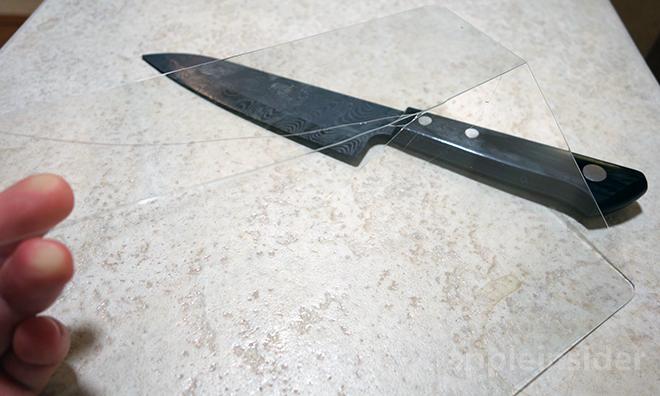 Putting the protector to the test, we rubbed keys, coins and headphone plugs on its surface. We also stowed the iPad without a cover in our bag during daily treks to the store. While some dirt and grime got caught in the button area, a quick polish of the glass revealed no trace scratches.
In the end, it took the tip of a ceramic kitchen knife to break the unit, as seen above. It should be noted that, while all other stress tests were conducted with mPact installed, this last extreme measure was done off-device on a hard surface.
In our estimation, the knife cut about halfway into mPact, leaving a clean straight line with no "spiderweb" cracks. With a five-inch gash running down its center, mPact's structural rigidity was compromised and the glass ultimately fractured into six distinct segments. As shown in the photo above, mPact did not shatter and held itself together after breakage. While speculation, the post-accident integrity may be thanks to an internal laminate, though we have been unable to confirm this detail.
Conclusion
mPact is one of the better screen protectors we've tested. It's easy to install, tough and very nearly transparent.
The one drawback is price. At $60 for the iPad Air version, mPact may not be the most expensive tempered glass screen protector we've seen, but it is definitely at the higher end of the spectrum. Smaller versions for the iPhone 5s and 5c come in at a more palatable $30, while the iPad mini mPact is $50.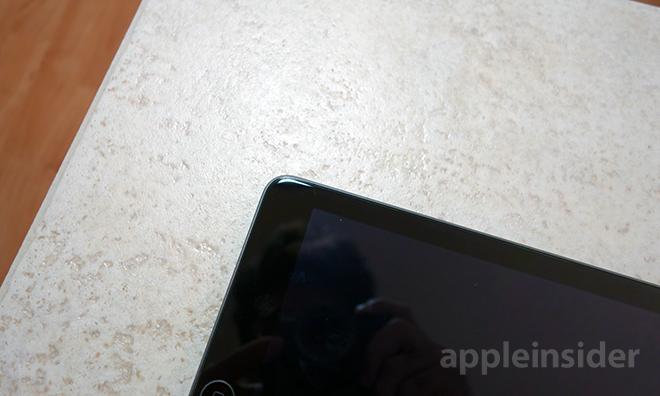 Looking at it from another perspective, though, a $60 screen protector is much less expensive than replacing a damaged iPad display. With optical performance bordering on the invisible and responsive touch translation, the extra protection really only comes at a cost of added thickness.
Overall, we found mPact to offer significant value for the price, if only as insurance against possible breakage. That being said, we don't use device cases, making our screens more prone to accidental cracks and scratches.
For those who already own a Smart Cover, Smart Case or comparable protective product, mPact may be overkill. But for users who, like us, prefer to carry around "nude" devices, it is definitely worth a look.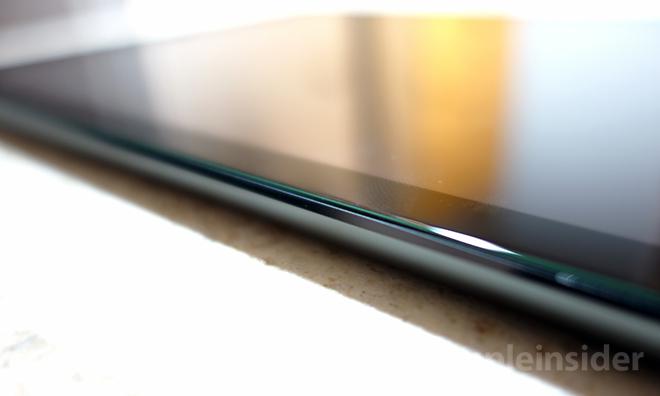 mPact Glass for iPad Air can be purchased for $60 through designed by m's website. Other device variations are also available for the iPhone 5s and 5c, as well as both iPad mini generations.
Score: 4 out of 5

Pros:
Highly transparent glass with specialized coatings
Shatterproof chamfered design
Cheaper than other tempered glass protectors
Cons:
Expensive compared to plastic protectors
Extra height interferes with iPad/Smart Cover magnetic bond
Unattractive domed home button set