Analyst predicts Apple will transform notebook market with 12-inch hybrid 'iPad Pro' this fall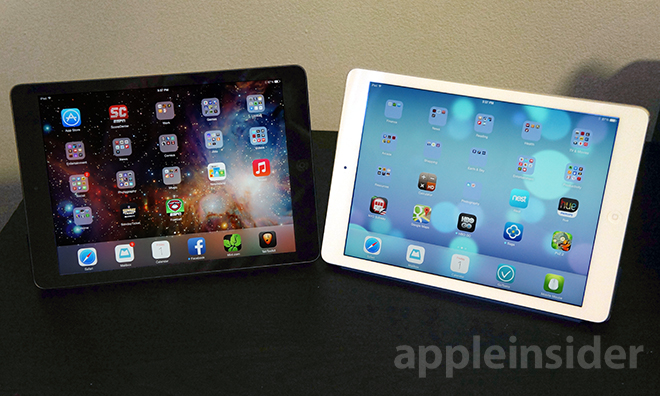 As part of a series of predictions for 2014, Evercore Partners analyst Patrick Wang believes Apple will show a renewed focus on the enterprise market with a new 12-inch iPad hybrid, which he believes would fundamentally change the notebook PC landscape.
The iPad Air is currently Apple's largest tablet with a 9.7-inch display.
Wang made his prediction in a note to investors this week, a copy of which was provided to AppleInsider. He forecasts that a new iPad model with a larger 12-inch display, powered by an Apple-built next-generation "A8" processor will launch in the fall of 2014.
The analyst sees such a device shaking up the traditional, established notebook market — Â an industry that Apple rival Microsoft has been trying, but thus far largely failing, to overhaul with its own hybrid laptop-tablet devices running the Windows 8 platform.
He said such a device would expand the reach of chipmaker ARM, which makes the reference designs for Apple's A-series chips. ARM's gains would come at a cost to Intel, the dominant player in traditional computer chips, resulting in greater price competition, Wang believes.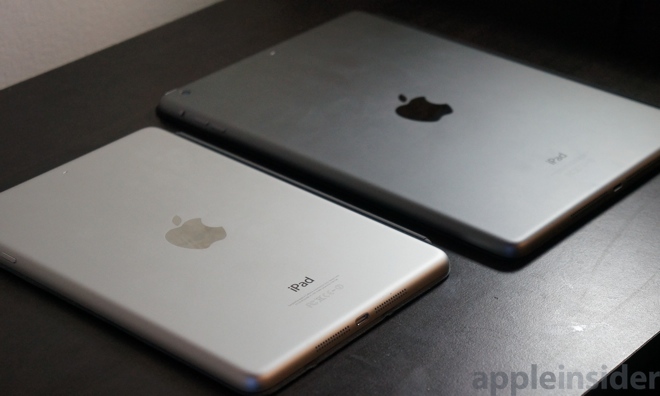 In particular, Wang noted that the processor in a MacBook Air is estimated to account for 22 percent of the notebook's bill of materials. In contrast, the processor in a 128-gigabyte iPad is estimated to represent just 4 percent of the total cost to Apple.
Wang sees the 64-bit infrastructure introduced in Apple's new A7 processor — which powers the iPhone 5s, iPad Air and iPad mini with Retina display — as a "game changer" that sets the stage for a so-called "iPad Pro." Recent rumors have suggested Apple has been testing touchscreen panels in the 12-inch range for a new product that could launch this year.
Some believe the naming convention of the new iPad Air, borrowing from the MacBook Air, could signal that Apple plans to release a professional-grade iPad, akin to the MacBook Pro in its notebook lineup. A 12-inch display would put such a device in a class closer to Apple's 11.6-inch MacBook Air. To date, all full-size iPad models have had a 9.7-inch screen, while the iPad mini models have sported 7.9-inch displays.
But Wang predicts that Apple wouldn't just simply release a larger iPad — he sees the company using the additional screen real estate to create a hybrid-style device that could serve as both a tablet and a notebook, and would make the iPad lineup more appealing to business customers.