Apple announces one-day 'Red Friday' sale for select Asian markets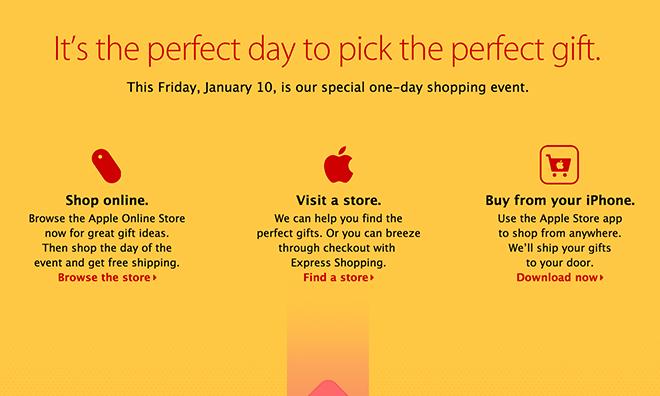 Apple on Monday announced an Asia-only one-day sales event scheduled to take place on Jan. 10 in China, Hong Kong, Korea and other major markets in the region, celebrating the upcoming Lunar New Year.
As with 2013's "Red Friday" sale, Apple's one-day shopping event will bring discounts to brick-and-mortar Apple Stores, as well as the Online Apple Store and App Store iOS app.
Apple's "Red Friday" is similar to the Black Friday shopping extravaganza in the U.S. and comes two weeks before this year's Lunar New Year, which falls on Jan. 31.
This year, countries eligible for the one-day sale include China, Hong Kong, Malaysia, Singapore, South Korea, Taiwan and Thailand. The event will take place on Jan. 10, though exact discounts to be offered are unknown at this time. Previous years have seen modest price cuts on select Macs, iPads, iPods and various Apple-made accessories.
For Black Friday, Apple handed out gift cards in the U.S., while some European markets saw direct discounts on iOS and Mac gear.