SteelSeries debuts 'Stratus' MFi-certified Bluetooth game controller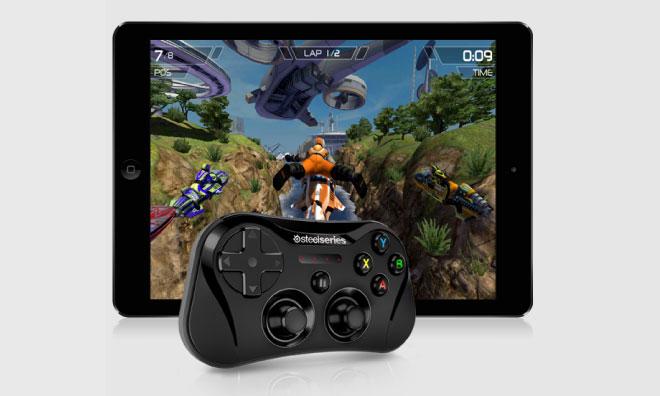 AppleInsider may earn an affiliate commission on purchases made through links on our site.
PC gaming peripheral maker SteelSeries on Monday took the covers off of a new Made for iPhone game controller that connects to iOS devices wirelessly over Bluetooth, the first of its kind.
Unlike competitive devices from Moga and Logitech, SteelSeries's Stratus is designed as a standalone controller, rather than one that wraps around the user's device. Not only does this mean the Stratus can be used as a game controller for iPad, but also for older devices that do not use Apple's Lightning connector — Â like an iPhone 4s running iOS 7 — Â as well as future models that may not share the iPhone 5's form factor.
The Stratus uses Apple's "extended" controller layout, providing gamers with a directional pad, four action buttons and four shoulder buttons alongside dual analog sticks. SteelSeries says an integrated battery can power the gamepad for approximately 10 hours on a full charge and can be topped up via USB in around 2 hours.
Up to four Stratus controllers can be connected to a single iOS device for use in multiplayer games and Wiimote-like LED lights help players determine which controller is which.
"With Stratus, gamers have easy and direct access to a growing roster of great games on iPad that were intended for an immersive, controller-enabled experience," SteelSeries CEO Bruce Hawver said in a release announcing the device. "We're incredibly excited to be the first gaming peripherals company to develop a standalone controller for iOS devices and are thrilled to see an abundance of high quality game titles rolling out from publishers everyday."
The SteelSeries Stratus comes in both black and white and is available for pre-order today from the company's website for $99.99.