Hands-on: Recon Instruments Snow2, an iPhone-connected heads-up display for sports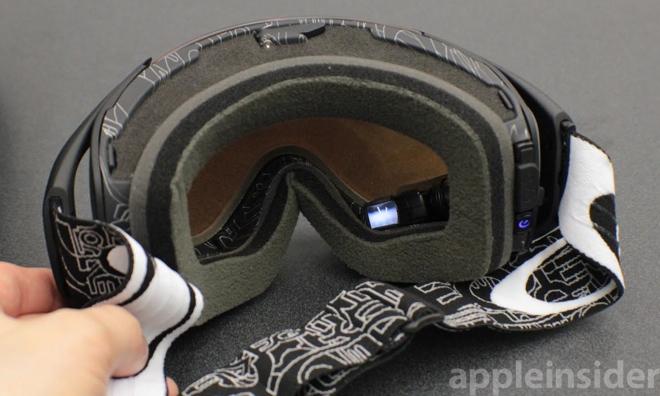 iPhone toting athletes looking to stay connected without having to take their eyes and hands off the task at hand have a few sports-oriented heads-up display options from Recon Instruments. At this week's Consumer Electronics Show, we took a closer look at the Snow2 headset, just in time for ski season, and were also given a sneak peek at the upcoming Jet.
Recon Snow2 is actually the name of the electronics that users can place inside of their goggles. But a complete kit dubbed Oakley Airwave 1.5, a collaboration between Oakley and Recon with Snow2 already integrated, is also available, and that's the product we took a look at.
Recon's technology is not dissimilar from Google Glass, perhaps the most famous heads-up display technology to date, allowing users to access information at a glance without needing to look at their phone, or even a smart watch. But Recon's products, which also include the glasses-mounted Jet set to launch this spring, are intended for athletes who want instant access to information such as performance metrics, trail maps, and more traditional data such as incoming text messages and calls.
We've tested Google Glass, and felt like a jerk while we were using it. That's one of the advantages of Snow2: Everyone is wearing goggles on the mountain, so you don't stand out if you're using Recon's heads-up display.
In addition, we found that the Recon's display was superior to Google Glass when adjusted to our liking. And we feel the sports-oriented nature of Recon's products give them more of a purpose than Google Glass.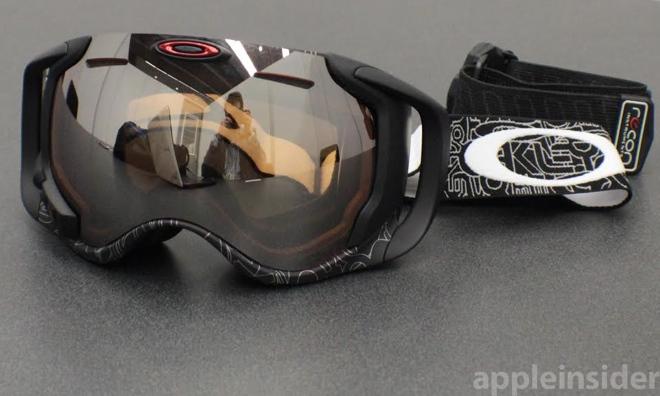 Users aren't limited to Oakley and can bring their own goggles too. That's why Recon works with a few companies, allowing consumers to find the style and facial fit that's right for them.
Thanks to an integrated, GPS, the Recon HUD can display data such as speed, altitude, location, and compass. If a group of people on the mountain are using Snow2 and are connected to their iPhone, they can share their position on a map with friends, making it easy to find each other while on the slopes.
That's not to say that a paired smartphone is necessary — data, such as the altimeter and aforementioned performance stats, will function just fine without a connected device.
Recon's heads-up displays are designed to be unobtrusive. Placed on the periphery of a user's vision, they can glance down to see information when they want to — much like looking at the dashboard in a car.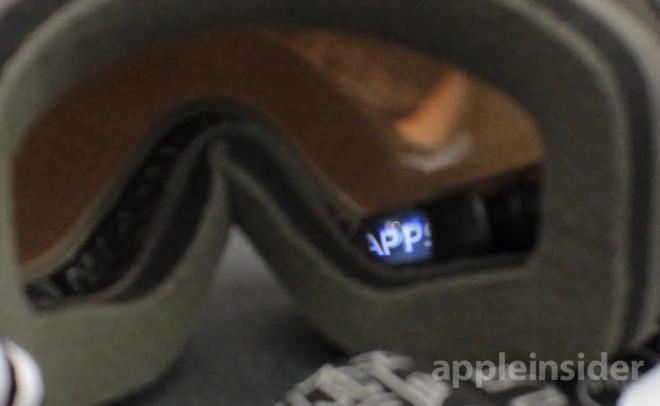 Recon also has a software development kit, allowing third-parties to access Snow2 or the upcoming Jet, sharing health and fitness information from heart monitors, or allowing users to remotely control a wireless camera. The Recon devices connect through Bluetooth Low Energy, Bluetooth Classic, and ANT+, meaning they offer a wide range of compatibility with existing smart sensors on the market.
While we got to take a quick look at the glasses-mounted Jet, which will launch this spring, we spent some more time testing out the Snow2 with Oakley Airwave, which is currently available. We found that the head-mounted display was clear and easy to read once adjusted to our personal preferences.
Though we were in Las Vegas, and not on a mountain, when we sampled the Snow2, we came away very impressed with the display. The screen is also stiff, which we believe would be good for avoiding vibrations while in use.
Recon's devices connect to a companion iOS application called Airwave, which allows users to track their friends, keep track of their stats, and share data in real time to social media such as Facebook.
The Recon Snow2 HUD can be purchased as a standalone unit for $399, though it's completely sold out for the 2013-2014 ski season. The Oakley Airwave 1.5 retails for $649, while the Snow2 HUD & UVEX G.GL 9 Bundle is $549. The company's previous-generation MOD Live HUD, with included iOS remote for iPhone control, remains available for $299.
While the Snow2 is ideal for skiing and snowboarding, the upcoming Jet is intended for triathletes, sailing, golf, running and biking. It's available for preorder now for $599, and will have the added benefit of an integrated camera, something the Snow2 does not have.