Tim Cook makes rare TV appearance to hype Apple-China Mobile deal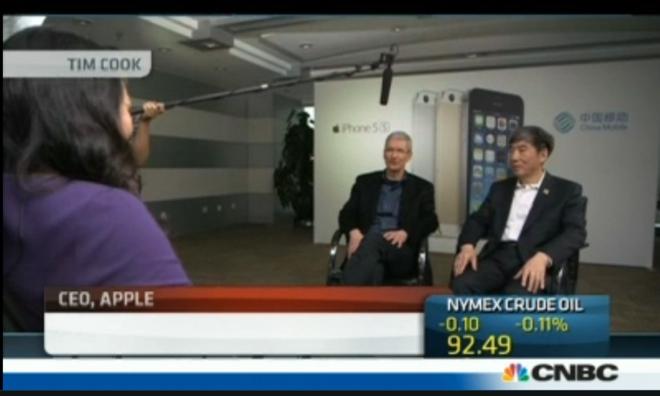 In an effort to drum up enthusiasm among investors for his company's new agreement with China Mobile, Apple Chief Executive Tim Cook participated in a rare TV interview on Wednesday, sharing the spotlight with Xi Guohua, the chairman of the world's largest wireless carrier.
Both Cook and Xi spoke with CNBC, and though the two parties revealed little, China Mobile's chairman did disclose that the carrier had netted 1.2 million total preorders for the iPhone 5s and iPhone 5c as of Jan. 13. Both devices are set to launch on China Mobile this Friday.
Cook referred to the agreement as a "watershed day," and praised China Mobile for having a "very fast network." It was a rare television interview appearance by the Apple CEO, who participated in a high-profile appearance on NBC in late 2012.
In his latest appearance, Cook spoke of the "deep respect" he and Apple have for China Mobile, saying he has been "incredibly impressed" with them thus far. Unsurprisingly, neither Xi nor Cook opted to give estimates on how many iPhones they believe China Mobile could sell in its first year.
"We see this as bringing the world's best smartphone to the very largest and now the fastest network in China," Cook told CNBC.
Both men also sat down for an interview with The Wall Street Journal this week, in which Cook hinted that both companies could expand their partnership in the future. While Cook declined to get into specific plans, it's likely that Apple will introduce cellular-capable iPads on China Mobile, as it has done on other partner carriers' networks.