Apple patent filing offers peek at future sapphire applications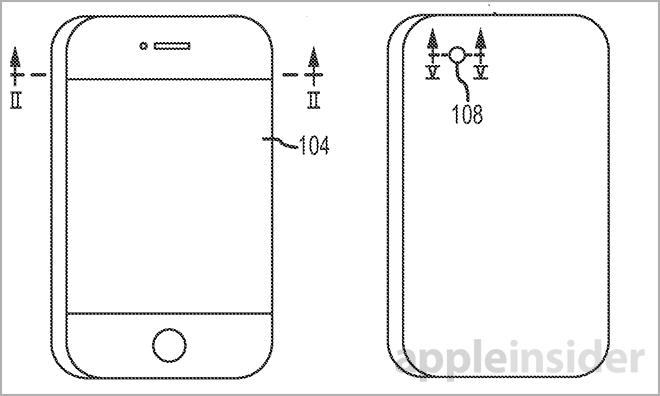 An Apple patent application describing a method of mounting sapphire to an electronic device was discovered on Thursday, with example implementations possibly revealing how the company plans to employ the exotic material in future products.
The U.S. Patent and Trademark Office published Apple's patent application for "Attachment techniques" detailing various methods in which sapphire can be securely fastened to an electronic device.
At its heart, the patent application is a solution for mounting sapphire to electronic devices. Included in the patent language is a description of Apple's camera lens cover implementation, as well as other more functional uses.
For example, Apple notes sapphire may be attached to a portable device frame as a cover glass for a display. Current iPhones use Corning's Gorilla Glass to protect the important component from scratches and damage, but it is possible that Apple may be looking to incorporate sapphire in future versions of the smartphone. While aluminosilicate glass solutions like Gorilla Glass perform well, certain advanced sapphire laminates can be even more resistant to daily wear and tear.
Apple points out that sapphire's thermal conductivity is on the same order as some metals and can therefore be used as a heat spreader. By attaching a sapphire structure to a processor, perhaps as a mount, the material is able to efficiently dissipate generated heat.
As for the property's described attachment techniques, in one embodiment an aperture is formed in the sapphire substrate. A second material with a lower melting point, such as metal or plastic, is heated and poured into the aperture. In some cases, the aperture may feature tapered walls or securing structures to help hold the second material in place. Once cooled and hardened, the metallic portion can then be used as an attachment point to which other materials are soldered, welded or otherwise mechanically coupled.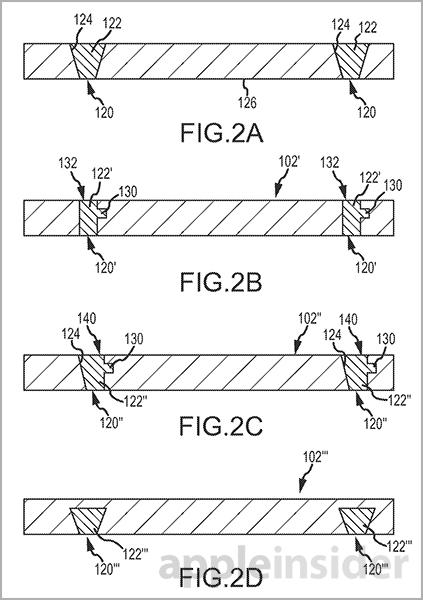 A second embodiment details a molding technique that can be used to attach a member or secondary material to the sapphire substrate. As with the first method, the sapphire incorporates notches, steps or other securing features along its periphery, effectively making the substrate part of the mold. When a process like injection molding applies a second material to the sapphire, it will form an integral mold with these securing features.
When inserting the finished sapphire cover or part into the electronic device structure, a number of methods may be used to ensure it stays securely in place. For example, a device's support structure may attach to the narrow tapered edge of the sapphire part, thus ensuring a secure coupling.
The rest of the patent is dedicated to detailed description of aperture creation techniques, as well as further illustration of coupling and molding methods.
At this point, Apple's plans for sapphire components remains unknown, but the company is definitely investing heavily in the technology.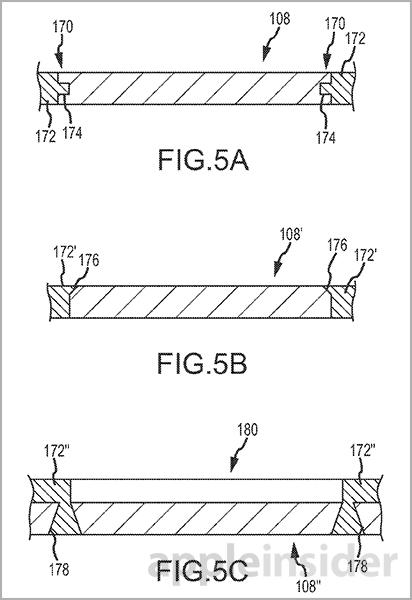 Sapphire was first used in the iPhone 5 when Apple applied the hard material as a lens cover for the handset's rear-facing camera. With the current iPhone 5s, sapphire plays a more critical (and functional) role as the cover glass for Apple's Touch ID fingerprint sensor.
In November of 2013, crystal growth and solutions firm GT Advanced Technologies announced it had signed a $578 million contract to provide Apple with advanced sapphire products, almost guaranteeing future iDevice products will incorporate the material in some capacity. Previous patent filings have also hinted that Apple is actively investigating manufacturing techniques and future implementations of the material, but Thursday's document goes further by specifically naming example implementations.
Apple's sapphire coupling patent application was first filed for in 2012 and credits Christopher D. Prest, Dale N. Memering, David A. Pakula, Fletcher Rothkopf, Matthew D. Hill, Stephen B. Lynch and Tang Yew Tan as its inventors.