First look: Pebble 2.0 update and smart watch appstore for Apple's iPhone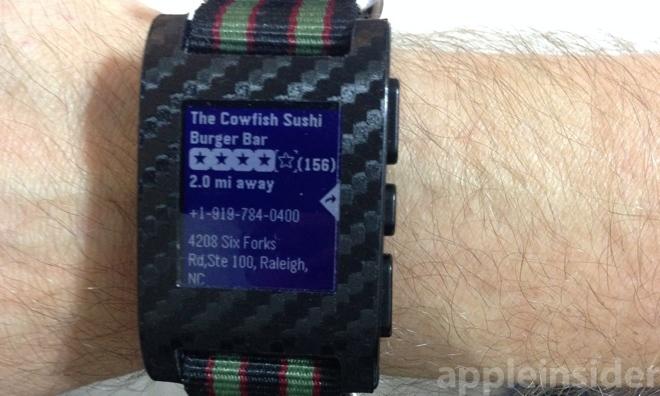 AppleInsider is supported by its audience and may earn commission as an Amazon Associate and affiliate partner on qualifying purchases. These affiliate partnerships do not influence our editorial content.
With its new Steel smart watch shipping today, Pebble is gearing up for this week's launch of its new appstore, with major launch partners Foursquare, GoPro, Yelp and ESPN. AppleInsider offers a first look at the new storefront included in the Pebble 2.0 update.
Pebble has promised that its new appstore will launch as part of the watch's 2.0 firmware and an accordingly updated iOS application later this week. We were given the ability to test out the new appstore prior to its release in beta form.
Because we tested a beta of the Pebble appstore, it should be stressed that features and functionality may change before the final release. However, with the appstore set to debut this week, it's unlikely that the shipping product will vary greatly.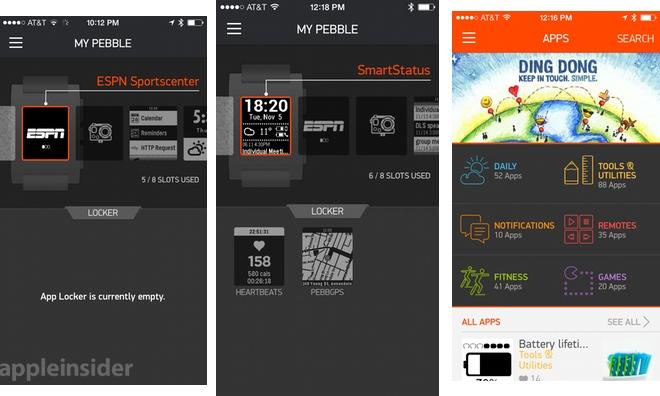 Upon launching the new Pebble app for iOS, iPhone users are given three main menu options: My Pebble, for managing what's installed on the watch, Get Watchfaces, and Get Apps. While watchfaces are generally decorative displays of content such as time, date and calendar entries, apps go farther and offer unique functionality that can tie into other iPhone apps or even iPhone-connected accessories.
In the event that a Pebble app requires a separate iOS application to function, the Pebble appstore will whisk users away to the iOS App Store to download the respective software.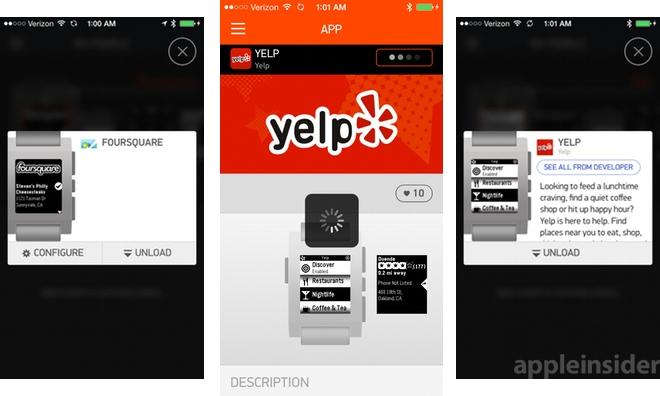 App listings are about what users expect, complete with screenshots of the app running on Pebble, and the ability for users to "heart" their favorite apps and help them rank higher on the store. All Pebble apps are free, though some depend on companion iOS applications that are paid.
Once installed, apps are listed in the Pebble's main menu, and are simply added to the bottom after built-in functions such as Settings. Users are restricted to 8 total apps and watchfaces installed on their Pebble, though an app "locker" in the corresponding iOS application allows users to store and swap out watch apps quickly.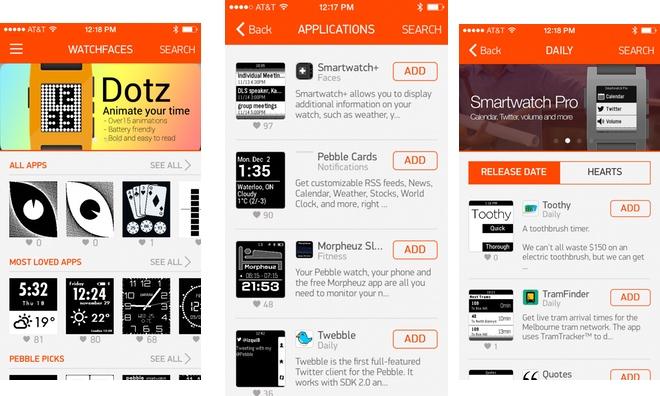 In our tests, some Pebble apps were limited by Apple's restrictions and auto-management of background tasks in iOS. For example, we couldn't view our step totals with the Movable app, or see weather or calendar data in Smartwatch+, unless the respective iOS application had been recently opened on our iPhone.
We didn't have these types of issues with other options, however, like Yelp and Foursquare — Â applications that do not require companion iOS apps in order to function.
To showcase the capabilities of the Pebble appstore, the company offered four specific apps from major companies for reporters to test out. Here we offer a closer look at how those operate.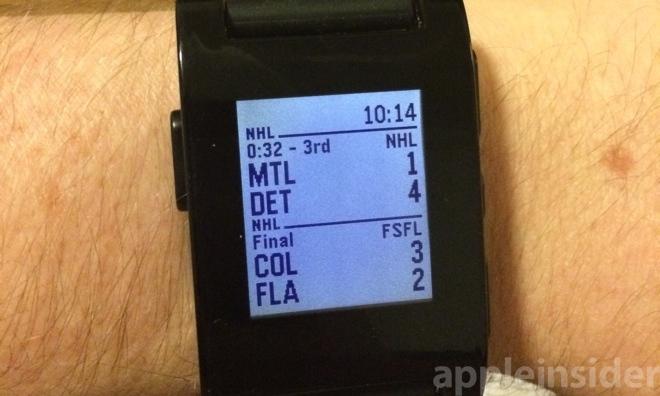 The ESPN SportsCenter app for Pebble provides live scores and updates, powered by ESPN's "Sports Center API." Pressing the center button on the right accesses the app's settings, where users can choose what league they want to see, update intervals, and app background colors.
League options available in the app are NFL, MLB, NBA, NHL, NCAA Football, and NCAA Basketball. Scoring updates can be checked for in 15, 30, 45 and 60 second intervals.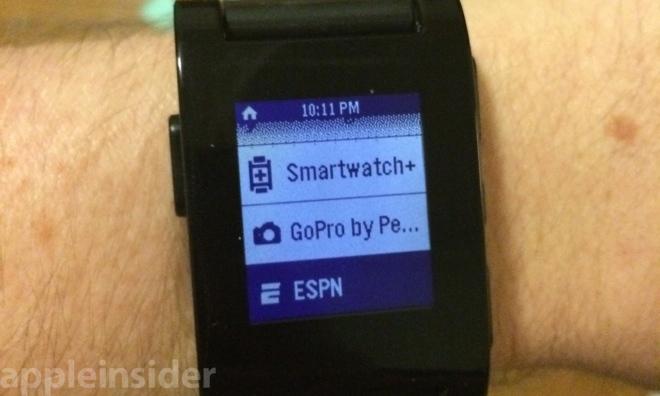 When viewing scores, the current time is displayed in the top right while two match-ups can be seen per screen. Pressing the top or bottom right buttons will scroll through additional pages for more results.
When left idle, the app will automatically scroll through scores in the selected league. In addition to team names and scores, the app will also display game start times and what channel the game can be viewed on.
As it stands, the ESPN app for Pebble is functional and easy to recommend. In the future we'd like to see support for favorite teams and additional sports leagues added.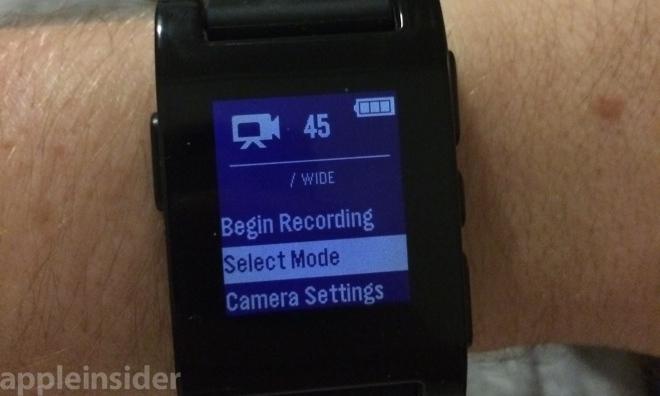 Owners of GoPro's Wi-Fi connected sports cameras can already control their camera through the company's official iPhone app, but pulling out your smartphone while on the slopes or riding a bike might be difficult or dangerous. The new GoPro by Pebble app solves this by placing controls for the camera on the wrist.
Once the GoPro is connected and the Pebble app is launched, users have three options: Begin Recording, Select Mode, and Camera Settings. Here, users can easily switch between recording modes, and can see what mode the camera is currently in.
The GoPro application for Pebble works essentially the same as GoPro's own official remote, an accessory that sells for $80. With the added convenience of always having your Pebble on your wrist, we see the official GoPro companion smart watch app as a great addition to the versatile camera's lineup of accessories.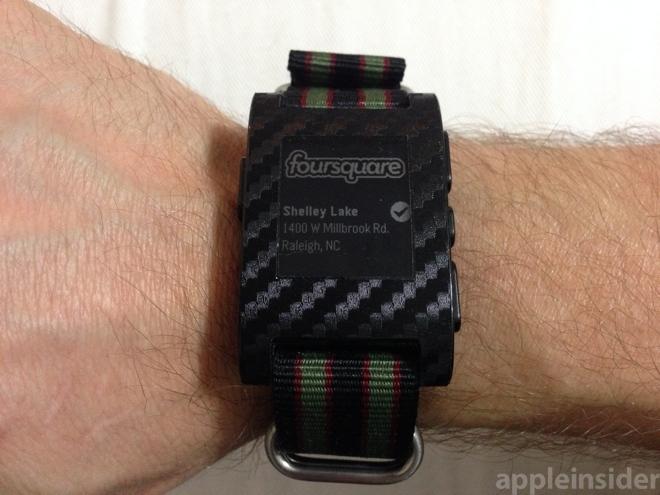 The Foursquare app for Pebble is pretty slick. It accesses the data and GPS of the phone, but remains completely controllable by the watch.
When launching Foursquare, it detects the user's current location and lists the nearby venues where they can check in. The center right action button records the check-in. Up and down right buttons scroll the list for other places nearby.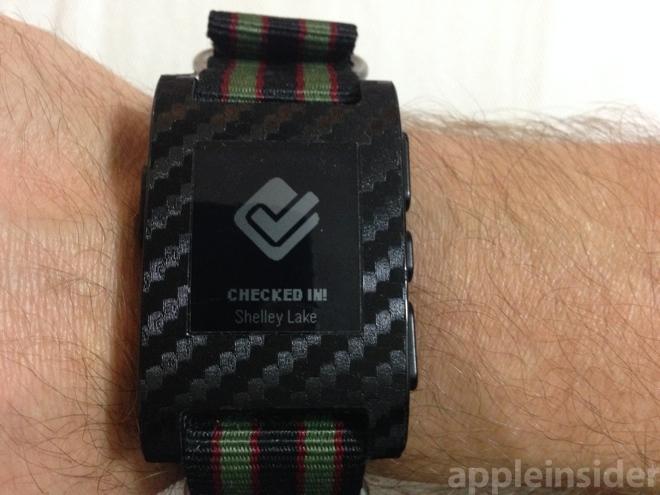 It's simple and may lead to more check-ins, because for some the Pebble app may be more convenient. When Foursquare is on the wrist and is easy to get to, checking in may be more habitual than it is reaching for a phone, unlocking, launching an app, and then checking in.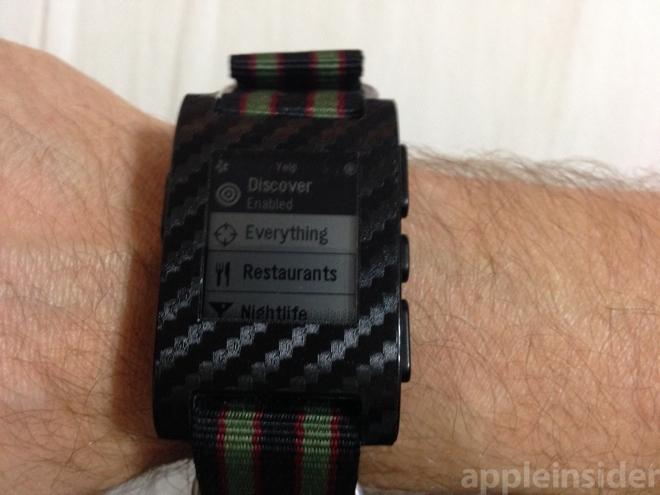 Yelp! similarly takes advantage of simplicity and the phone's GPS and data. When first launched, it opens in discovery mode, and locates the nearest restaurant.
Users are shown the name, star rating, distance and address
on the first panel displayed. Pressing the center right action button displays reviews that can be scrolled through up and down, while action will take you to the next review. Three reviews are available to view per page.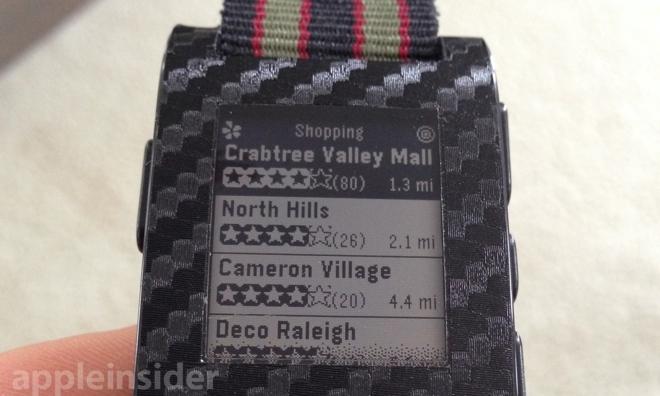 It's possible to disable discovery and search through only nightlife, or only shopping, just as you would in a Yelp! app on the phone or web. In our tests, we kept it set to Discover, which seemed most convenient — we don't always search for restaurants, and in the past we've used Siri to access Yelp, but here having the watch app tell us where to go seems like a quieter, more discreet method.