Rumor: Apple hires 'sleep expert' from Philips Research for iWatch project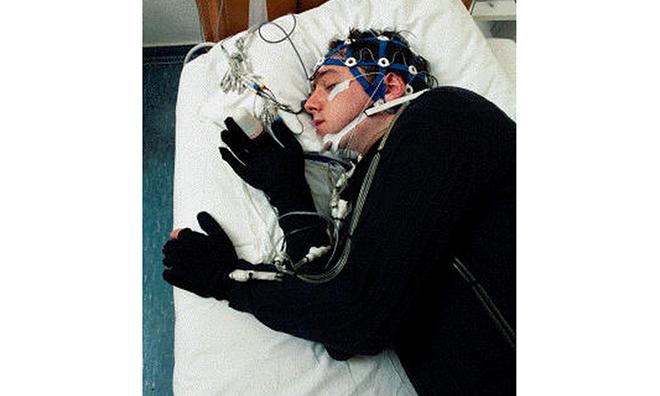 A report on Tuesday claims Apple has made another hire for its so-called "iWatch" project, this time a sleep expert from Philips Research who could transform the wearable into proactive monitoring device.
In a possible addition to the rumored iWatch team, Apple recently took on Dr. Roy J.E.M. Raymann, a scientist who has contributed a great deal of literature and research to the field of sleep studies, according to 9to5Mac.
It should be noted that AppleInsider was not able to confirm Raymann's move to Apple, and as such offers the following strictly for purposes of discussion.
On his LinkedIn profile, Raymann describes himself as an "Expert on Sleep Research, Ambulatory Monitoring, Psychophysiology, Performance Measures, Thermoregulation, Circadian Physiology and Sleep Enhancement." He has worked with various sensor technologies that can monitor sleep behaviors and applied his research to treat sleep disorders.
For example, Raymann has experimented and wrote scientific papers on various methods and approaches to sleep modification such as thermoregulation and light treatment, the latter of which is heavily promoted by Philips.
Raymann left Philips in early January and also stepped down from his post on the Dutch Society for Sleep-Wake Research's (NSWO) scientific committee. During his time at the Dutch-based company, Raymann was part of a number of initiatives relating to the treatment of sleep disorders. Examples include project lead on sleep and thermoregulation; a supervisory role in power napping, GSR and sleep, vigilance and light exposure; founder of the Philips Sleep Experience Laboratory.
As for his background in wearables, Raymann worked for think tank TNO prior to his stint at Philips. During his time as a scientist at TNO Defense, Raymann conducted research on thermoregulation and wearable physiological sensors as applied to athletes and soldiers. In addition, he conducted studies to help protect against frostbite, offer thermal comfort in extreme environmental conditions and find ways to sleep in the cold.
With a healthy background in sleep monitoring and non-pharmacological sleep behavior modification, Raymann would be an interest addition to Apple's rumored health initiative, which could come as soon as iOS 8.
A number of fitness and health trackers already have devices on the market that monitor sleep patterns, but none actually alter how a user sleeps. While mere speculation, it is possible that a wearable device could continually monitor a user and sound alerts or vibrate to modify unwanted sleep patterns.