Rumors: Apple prepping bezel-free design, Sony FaceTime camera for 'iPhone 6'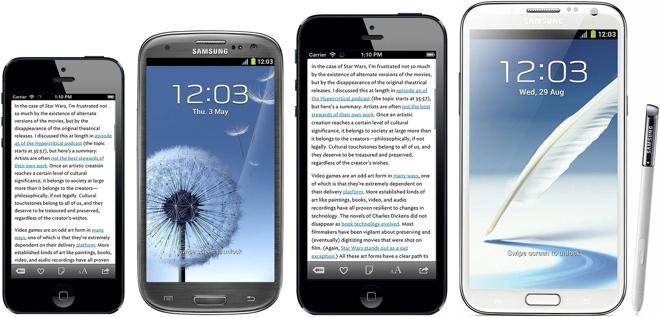 A Tuesday afternoon rumor out of South Korea suggests that Apple may be considering an edge-to-edge display for the eighth-generation iPhone, while Japanese media reports that Sony is in talks to supply front-facing FaceTime camera modules for the handset in addition to the rear iSight camera components.
Mockup of iPhone with 4.94-inch screen, created by Marco Arment.
Apple is said to be testing prototypes of the so-called "iPhone 6" that lack bezels surrounding the devices' displays, according to the Korea Herald. Rumors of an iPhone featuring a bezel-less design have been circulating for years, with one report last November claiming that Apple was working on handsets with "larger displays with glass that curves downward at the edges."
The display is also thought to feature integrated fingerprint sensing capabilities, technology that Apple has previously detailed in patent filings. It is unclear whether that would mean the end of the Touch ID-infused home button, or indeed the end of the home button all together.
In addition, the iPhone 6 could sport a new Sony-supplied front-facing camera. The Japanese electronics giant is believed to be negotiating a new agreement that would see its shipments of CMOS camera modules to Apple double as early as next year, Nikkei Asian Review said in a new report.
Sony reportedly purchased a semiconductor manufacturing facility from Japanese manufacturer Renesas Electronics as a precursor to the Apple deal. After an initial investment of some ¥35 billion ($342 million), the plant will boost Sony's CMOS manufacturing capacity by 25 percent per month.