Apple's iPad continues to dominate tablet usage, peaks in late evening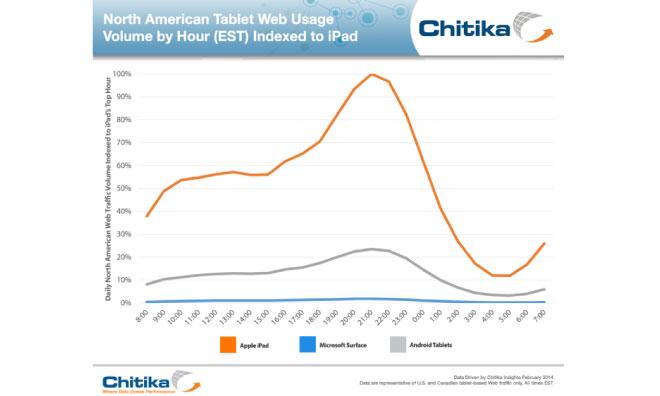 Despite a recent uptick in sales for Android-based tablets, Apple's iPad remains the most-used slate by an overwhelming margin, according to new data released Wednesday.
At peak hours — Â around 9:00 p.m. Eastern time — Â tablets running Google's Android operating system are used less than 25 percent as much as the iPad, web and advertising analytics firm Chitika said in a study. Chitika analyzed tens of millions of tablet-based ad impressions in North America to come up with the numbers.
Microsoft's Surface brought up the rear at less than five percent of the iPad's peak, though the Redmond, Wash.-based company's nascent hardware platform does appear to be living up to its business-focused billing. The Surface clocked a higher share of its own daily usage during the work day as compared to the iPad and Android-based tablets.
Additionally, the iPad appears to be preferred by those using the device during their morning commute. iPad users "exhibit higher usage rates as compared to Android tablet users by several percentage points," the study says.
Though the study does not break down individual iPad models, recent data suggested that iPad buyers may have favored the full-size iPad Air and iPad 2 models slightly over the more compact iPad mini during the holiday season. Apple sold a record 27 million of the tablets over that time.