Apple's iPad takes 91.4% share of enterprise tablets; iOS takes 73% share overall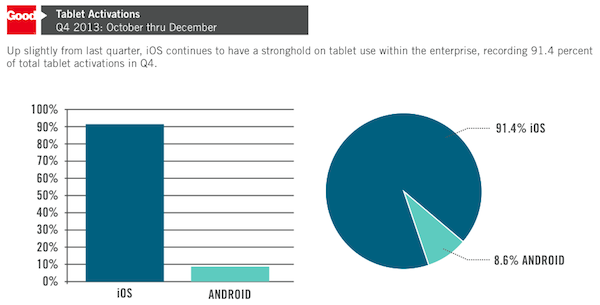 Enterprise mobile services vendor Good Technology reported that Apple's iPad accounted for more than 91 percent of enterprise tablet deployments, while iPhone represented 54 percent of smartphones activated by the more than 2,000 companies using its services in the fourth quarter, giving iOS an overall 73 percent share of mobile devices in the enterprise.
Good provides push messaging, device management and security products for corporate mobile users, serving as an alternative to RIM's BlackBerry Enterprise Server. As such, Good supports mobile platforms outside of RIM's own, including Microsoft's Windows Mobile, iOS and Android.
"we continued to see an increase in iOS activations this quarter," Good's report stated, "which we can attribute to two new iPhone models coming to market just before the start of the quarter. The overall number of device activations has increased 34 percent from Q1 to Q4 of this year, indicating strong, continued growth and adoption of the Good Secure Mobility Solution.
"As many organizations are migrating away from BlackBerry to meet end user demand and embrace newer platforms like iOS and Android, they are deploying Good's cross-platform solution to secure both their data and devices."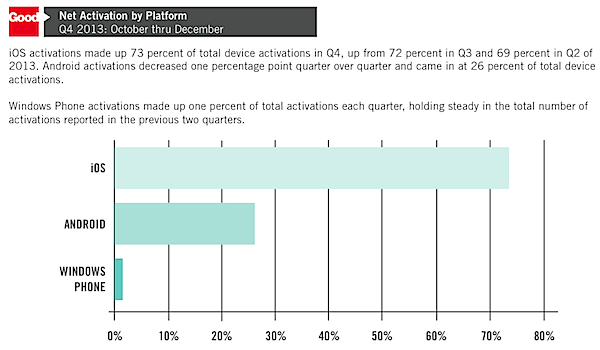 Good noted that total enterprise app activations grew by 54 percent over the previous quarter, an increase over previous quarterly growth rates of 43 percent. Deployment of custom developed apps grew at a rate of 55 percent.
That rapid growth in mobile application use by companies primarily benefitted Apple and its iOS platform, as Good reported "iOS devices claimed the top ten spots for most popular devices among users."
In contrast, "Android's share of activations continued to decrease quarter over quarter at 26 percent," while "Windows Phone activations remained steady at one percent of total device activations in both quarters."