Apple's iPhone earned 87.4% of global handset profits in December quarter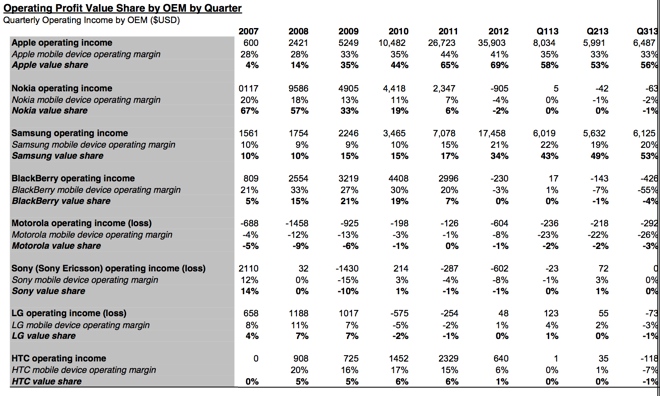 Despite efforts seeking to portray Apple as having experienced a disappointing winter quarter, the reality is that Apple brutally dominated the slowing global handset market, syphoning off 87.4 percent of the industry's global profits.
According to a research note by Raymond James analyst Tavis McCourt cited by Patrick Seitz of Investors.com, Apple's 87.4 percent share of the industry's profits dwarfed the earnings of second place Samsung, which accounted for 32.2 percent.
Most other vendors continued their historical trend of losing money in the quarter, contributing to the top two vendors' shares exceeding 100 percent. McCourt's analysis is even more favorable to Apple than figures by Canaccord Genuity (above), which have regularly charted Apple as leading an industry overwhelmingly represented by commercial failures, from HTC and LG to Google's Motorola, now being sold to Lenovo.
The fact that Apple is collecting a lion's share of the industry's profits also figures into the future of a market that appears to be satiating demand. McCourt noted that industry growth has now slowed to the lowest growth rate since the recession.
"In aggregate," McCourt wrote, "we believe the industry ex-Chinese vendors is likely to see little to no growth this year. Chinese-based vendors now account for 30% of industry revenue and 40% of industry volumes, and although growth is still elevated at Chinese-based vendors, we suspect these vendors will slow in 2014 as well, as China's end markets for smartphones slow."
McCourt added, "it remains unclear to us where any non-Chinese vendor outside of Apple and Samsung will obtain the profits necessary to re-invest in the business. The mobile device market continues to look like an Apple and Samsung market in the developed world, with Chinese-based vendors continuing to take share in emerging markets."