Apple & Samsung take massive 109% of mobile industry profits while competitors lose money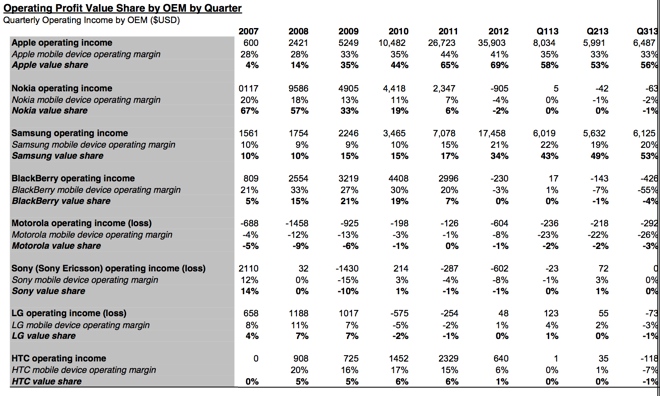 The mobile market continues to be a two-horse race for profitability between Apple and Samsung, with the two rivals commanding 109 percent of profits — a number made possible because its competitors are actually losing money in the smartphone space.
The latest data from Canaccord Genuity, shared with AppleInsider by analyst T. Michael Walkley on Thursday, estimates that Apple took 56 percent of the operating profits for feature phones and smartphones in the third quarter of calendar 2013. Coming in close second was Samsung, which took 53 percent of industry profits.
In contrast, all of the competition lost money, with the exception of Sony, which broke even during the quarter. The biggest loser was struggling BlackBerry, which represented a negative 4 percent of industry profits, followed closely by Google-owned Motorola, taking negative 3 percent.
Nokia, LG and HTC were all about even with one another, each representing negative 1 percent of mobile profits, according to Canaccord Genuity.
Walkley noted that the share controlled by Apple and Samsung is likely lower when the profits of Chinese vendors such as Lenovo, ZTE, Huawei and Coolpad are included. However, Chinese manufacturer profitability data is not available, and could not be included in the industry-wide comparison.
Apple actually saw its share of profits increase from 53 percent in the second quarter to 56 percent in the third quarter, despite the fact that the company was transitioning to the launch of the iPhone 5s and iPhone 5c late in the quarter. Walkley said Apple's greater share of profits came to slightly higher sequential iPhone unit sales, as well as more pronounced losses from BlackBerry and HTC.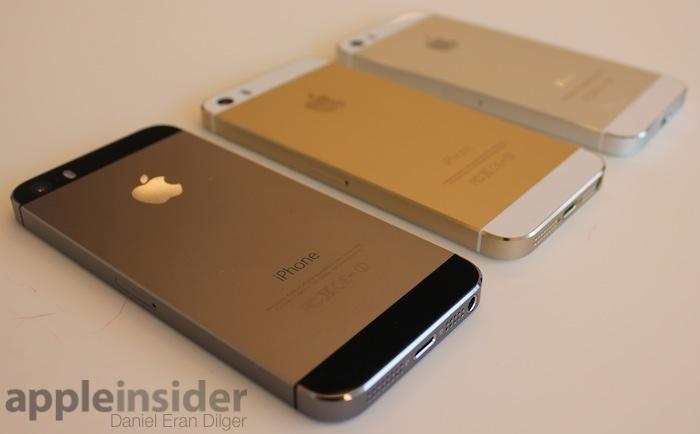 "Given a full quarter of iPhone 5s/5c sales, we anticipate very strong operating profit share for Apple during the holiday quarter," the analyst wrote. "Further, we believe Apple's value share of the handset market is even higher than our estimates... considering Apple's dominant share of the tablet market, as some Android OEMs include tablet sales in reported smart device sales and profits."
In fact, when tablets, notebooks and other mobile devices are included, Apple earned more than Samsung, LG, Nokia, Huawei, Lenovo and Motorola's mobile divisions combined, according to separate data released last month by Strategy Analytics.
Concentrating on phones alone, Apple and Samsung are estimated to have accounted for more than 100 percent of industry profits for some time now. Prior to Thursday's data, the most recent figures from July showed the rival companies accounting for 103 percent of industry profits.