Latest sketchy rumor claims Apple to launch two 'iPhone 6' models with 4.7" & 5.5" displays in Sept.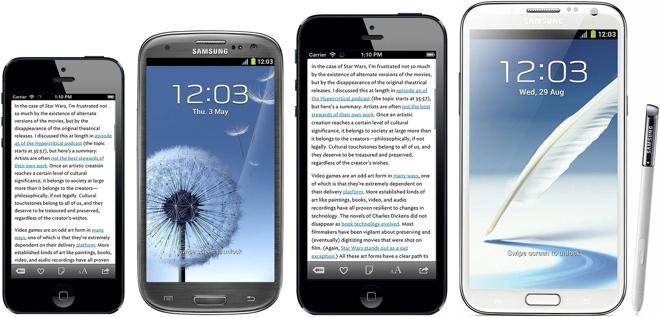 AppleInsider may earn an affiliate commission on purchases made through links on our site.
Rumors about Apple's next iPhone continue to fly, with the latest questionable stab claiming the company is planning to launch a so-called "iPhone 6" this September with two larger screen sizes: 4.7 inches and 5.5 inches.
Mockup of iPhone with 4.94-inch screen, created by Marco Arment.
The details supposedly come from "industry insiders" who allege to have seen "prototypes" of the upcoming devices, a report from the South China Morning Post said on Wednesday. Both devices are rumored to feature scratch-resistant sapphire crystal glass and will feature a new pixel density of 441 pixels-per-inch.
The pixel density specifics are particularly questionable, because the number cited is off by eight pixels, if Apple were to maintain the 16:9 screen aspect ratio currently found on the iPhone 5s, iPhone 5c and iPhone 5. For Apple to again change the aspect ratio of the iPhone's display seems suspect.
In addition, the report quoted an insider who reportedly said that the next iPhone will have a flat — and not curved — display because the company is following a lead supposedly set by Samsung.
"Apple doesn't do anything until Samsung does it, and then they improve on it," the source was quoted as saying.
Given the questionable claims made in the report, it's unlikely the specifics will turn out to be accurate. However, it is another major publication piling on to the rumors that Apple is planning to release at least one larger iPhone model later this year. For example, last month The Wall Street Journal claimed that Apple was actually planning to launch two larger models this year, in some level of agreement with Wednesday's latest rumors.
Apple's current flagship device, the iPhone 5s, sports a 4-inch screen packing in 326 pixels-per-inch into its Retina display. Prior to the iPhone 5, Apple's smartphones sported smaller 3.5-inch screens.
Until now, most rumors have pegged the size of Apple's next iPhone at under 5 inches, including claims from analyst Ming-Chi Kuo of KGI Securities, who has a strong track record in predicting the company's future product plans. They suggest that Apple strongly believes one-handed use provides a superior experience on smartphones.
So-called big-screen "phablets" have become increasingly popular, with Samsung leading the way in terms of selection. The Korean firm's Galaxy Note III, which was released last year, features a 5.7-inch display, while the Galaxy Mega comes close to being a small tablet with a 6.3-inch screen.