Using the Oakley Airwave 1.5 heads-up display with Apple's iPhone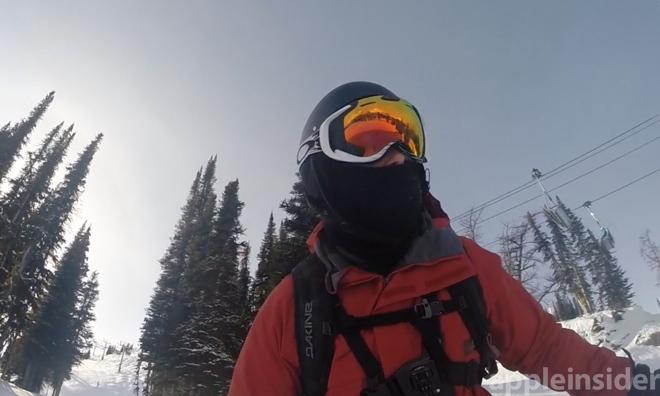 While Google Glass positions itself as an all-purpose heads-up display, the Recon Instruments Snow2 is a more targeted, mountain-specific sports accessory meant to provide users with data and feedback on the go. AppleInsider recently had the chance to test out the Snow2 integrated with Oakley's Airwave 1.5 goggles when paired with Apple's iPhone.
Recon sells the Snow2 as a standalone $399 accessory that can be inserted into compatible goggles. The device also comes preinstalled into some headsets, including the Oakley Airwave, which we were provided to test and which retails for $649.
Why would you want a heads-up display while on the mountain? For us, the biggest appeal was having instantly accessible, GPS-enabled interactive trail maps while at a new resort. Beyond that, it also features run tracking, jump analytics, a current speed display, a compass, friend tracking, music controls, and visual alerts for phone calls and text messages.
Unfortunately, extreme weather conditions prevented us from being able to adequately test the Snow2 HUD for a full-fledged review (more on that later). However, we did get to spend enough time with the equipment to share our detailed hands-on impressions.
Setup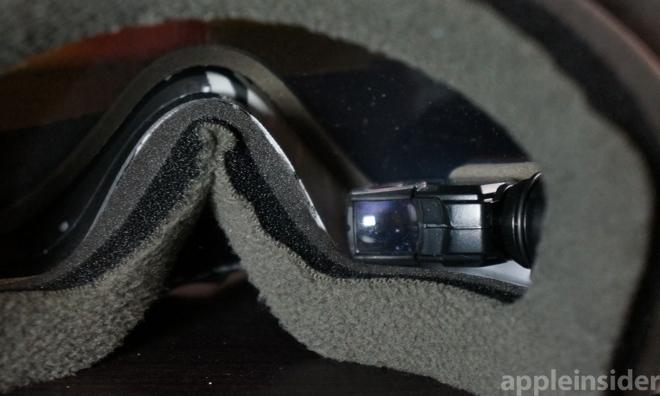 The Airwave comes in an impressive two-shelved box that's large, but plenty sturdy to hold the equipment. Inside, the goggles come with a carrying bag to hold everything, as well as a protective soft cloth bag to prevent scratches from occurring on the lenses.
Once the goggles were out of the box, we plugged them into our MacBook Pro via an included micro USB cable to update them. Software for the Snow2 accessory is managed through a browser plug-in, and we had no problems using it on OS X.
Pairing the Snow2 with our iPhone was also easy, after which we were required to install a third-party application to really get the most out of the goggles. Unfortunately, both Recon Instruments and Oakley make their own, separate iOS applications, but in our tests we found that both connect to and work with the Airwave.
We opted to use the Recon Instruments Engage application, because it has been updated more recently than Oakley's offering. Both applications appear to offer the same functionality, and we suspect that Oakley's software is just a "reskinning" of Recon's efforts.
It's also important to note that the Snow2 does not require connectivity with a smartphone, like Apple's iPhone. The system can still operate without a connected device, though users will lose features such as music controls, friend tracking, and the ability to share data online while still on the mountain.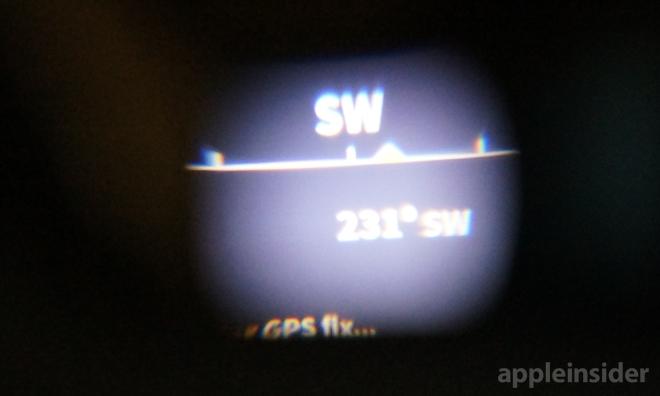 Perhaps most surprisingly, the Snow2 runs a heavily modified version of Android 4.1.1. While it is unmistakably an Android interface, the home screens have been modified to make it easy to see available content and flip through it. And yes, despite it being an Android accessory, it connects just fine to iOS.
Also included with the Oakley Airwave is a special oversized wrist controller, perfect for navigating the heads-up display's menus while wearing large, bulky ski or snowboarding gloves. It fits snugly around the wrist with velcro, is large enough to be placed on the outside of a ski jacket, and seems durable enough to withstand the elements. We really enjoyed this wrist controller.
Usage
Our biggest concern in using the Airwave was how much of a distraction it would be, having a screen in our face at all times. We're pleased to say that we don't think this heads-up display is a safety concern — Â it's placed in the bottom right corner of the goggles, out of the way of anyone's field of vision. You have to "work" to look at the screen, and when you do, it's easy to read.
It's also well designed and no one around will know you are using a heads-up display. This isn't a geeky attention grabber like some other devices.
We took the Airwave with us on a trip to Banff in the Canadian Rockies, and hit the slopes at Sunshine Village. While the Snow2 HUD is a winter-oriented product, it is not impervious to the laws of physics, and the dead of winter in Canada proved to be too much.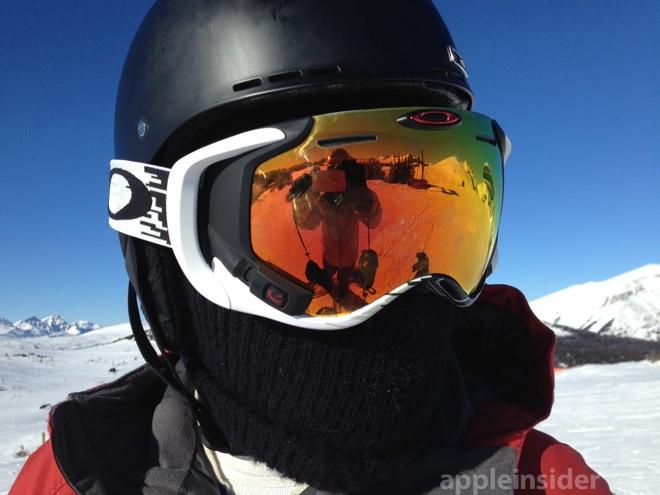 On our first trip up the open-air lift, we were able to use the Airwave fine, zooming in and out on trail maps and seeing where desirable runs were located. Using the built-in GPS and compass, the map updated in real time to show us where we were located, what direction we were headed, and what runs we could take to get to the bottom of the mountain.
Then, it stopped updating.
The screen stayed on and the compass seemed to work, but the GPS wasn't updating and our current location wasn't being refreshed. Attempts to change to other screens yielded no results.
The next day we tried again, this time to test the speed screen. It worked for a bit, we got up to about 30 miles per hour, and then the speed reading went blank. No GPS.
We contacted Recon Instruments and were informed that the Snow2 has a lower temperature limit of -4 Fahrenheit. As it turns out, Banff was quite a bit colder than that on our trip — Â so cold, in fact, that the lifts at Sunshine Village were only open half of the day, until the temperature warmed up enough to safely operate them.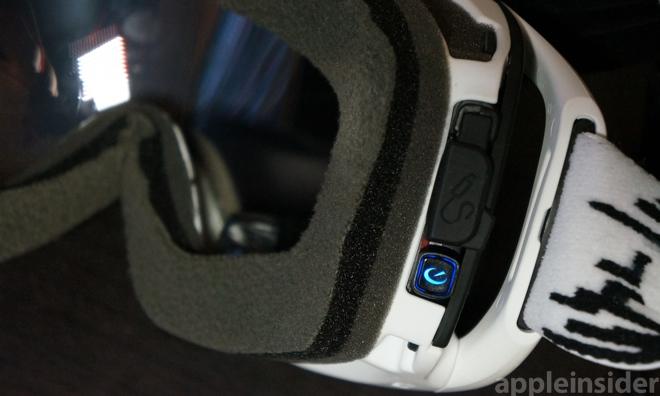 To be fair, Apple's iPhone — which is not advertised as a winter sports accessory — is also rated to -4 Fahrenheit. Our iPhone was kept in an airtight case for protection, but once we took it out and exposed it to the elements for a brief period of time, it simply shut down.
So while the failure was disappointing, it's still hard for us to severely knock the Oakley Airwave or Recon Instruments Snow2 for these temperature limitations. Yes, it is a winter sports accessory that would naturally face cold temperatures, but our Canadian trip was especially cold — Â cold enough to shut down the mountain for half the day and keep the slopes mostly empty of riders. A disappointment, but not a total failure.
Unfortunately, it never warmed up quite enough for the Snow2 to operate properly while out on the mountain, so most of our testing was left to be done in climate-controlled areas, rather than while coming down the slopes. And while the HUD seemed to work adequately in these scenarios, we can't assign it a score based on idle indoor testing.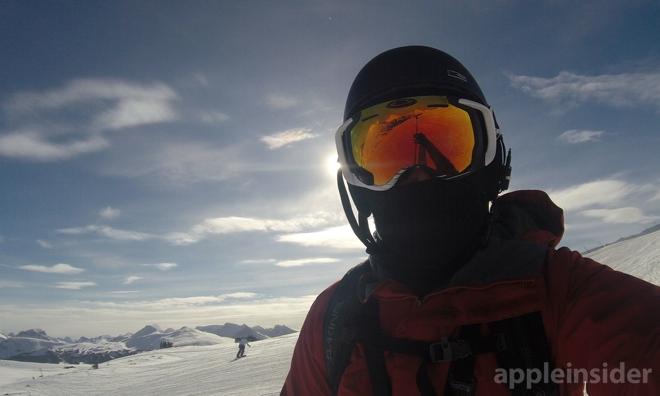 As it turns out, both the Snow2 standalone accessory and the integrated version with Oakley Airwave are sold out for direct sales for the remainder the current ski season. We'd hope that future revisions to the hardware would feature some sort of temperature-resistant improvements to handle more extreme conditions.
Recon Instruments is planning to release another sports heads-up display this year called the Jet, which will act as a pair of sunglasses and include an integrated high-definition video camera. Recon hopes to position that product as ideal for athletes in warmer climates, including cyclists, triathletes and runners.