Apple's buybacks exploited stock dips to generate billions in shareholder value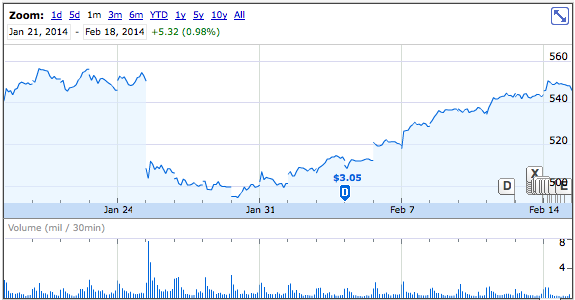 Apple's efforts to take advantage of irrational stock dips in order to buy back its own shares at a discount has transferred billions of dollars from panicked speculators to its long term investors.
In late January, industry analysts incited a stock panic that caused Apple's shares to plunge more than 8 percent after the company released its highest ever quarterly revenues and operating profits, results that the tech media depicted as "disappointing."
Investors who sold as Apple's stock plunged in paper value overnight from $550 to $503 (and then continued to dip below $500 through the end of January) unwittingly found Apple itself to be a willing buyer of the shares they abandoned.
A week into February, the company's chief executive Tim Cook revealed that Apple's executive team had jumped at the rare opportunity and spent $14 billion of its remaining buyback budget to snatch up its shares at a discount.
In comparison to Apple's $158.8 billion in available capital, the price of those recent buybacks might appear to be conservative. However, the $14 billion represented about 40 percent of the $34.4 billion in domestic cash the company reported holding at the end of 2013.
With its stock price then hovering around $500, the late January buybacks would have enabled Apple to grab around 28 million shares. Just over one week later, Apple's stock price has since rebounded to mid-January levels, increasing the impact of Cook's $14 billion buyback by nearly $1.4 billion in just days.
Apple's use of its own cash to buy back shares means that the additional $1.4 billion in value was lost by spooked sellers and effectively credited to the shareholders who remained invested in the company, as the value of the retired shares are absorbed by the remaining shares.
An even greater $16 billion buyback last summer retired 36 million shares at an average price of $444, a purchase that would today cost $3.6 billion more as those shares would each now be worth more than $100 more.
In total, Apple has bought back more than $42 billion of its own shares over the past two years, retiring around 84.5 million shares, or nearly 9 percent of the total shares outstanding when it launched its repurchase program.
Last April, Apple announced an increase of its capital return program, expanding its share repurchase authorization from $10 billion to $60 billion.
"We are very fortunate to be in a position to more than double the size of the capital return program we announced last year," Cook noted at the time. "We believe so strongly that repurchasing our shares represents an attractive use of our capital that we have dedicated the vast majority of the increase in our capital return program to share repurchases."
Apple will again revisit its capital return program in two months, potentially expanding its buyback authorization and or dividend program further, as it has already spent all but $18 billion of its $60 billion stock buyback authorization, a pace well in advance of the original plan to continue buying back shares through the end of 2015.