Roundup: Video of Apple's CarPlay in action with Mercedes, Volvo, & Ferrari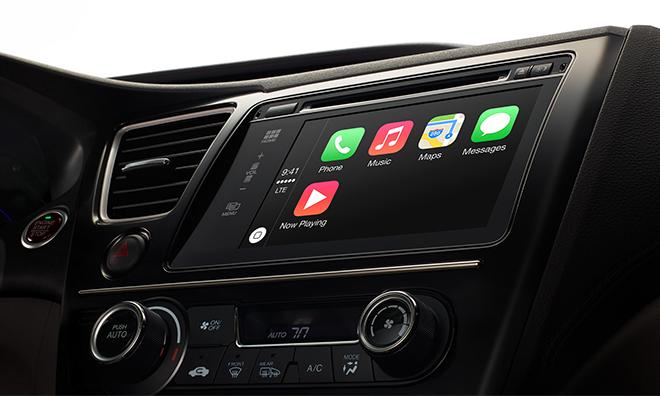 AppleInsider is supported by its audience and may earn commission as an Amazon Associate and affiliate partner on qualifying purchases. These affiliate partnerships do not influence our editorial content.
With CarPlay's official launch ceremonies in the rear view mirror, the floor of the Geneva Motor Show is now abuzz with hands-on demonstrations that reveal more details of the system's design and flexibility.
Each of Apple's three launch partners has chosen a slightly different implementation in terms of hardware and control schemes, though CarPlay's core concepts remain the same throughout. Each CarPlay-enabled app mirrors the functionality of its iPhone counterpart, but with a slightly different format that generally means larger typefaces and a darker overall color scheme.
There are some minor differences: Maps, for instance, launches into turn-by-turn direction mode immediately when a destination is selected, and a hardware home button is nowhere to be found despite its presence in Apple's marketing materials. In addition, a special manufacturer-specific app icon returns users to the vehicle's regular infotainment system when pressed.
Notably, all of the demonstrations focus on interacting with the system via Siri, a sign that Apple believes voice control is the way forward.
Volvo
Swedish automaker Volvo has chosen its futuristic Concept Estate showcar to put Apple's new infotainment option on display. The system runs on a large, portrait-oriented touchscreen embedded into the center of the car's dashboard.
Approximately one-third of the touchscreen's display area is give over to CarPlay. The rest is dedicated to vehicle controls — like ventilation — that surround and in some cases temporarily overlap CarPlay's display.
Touch appears to be the only input method allowed outside of the dedicated steering wheel-mounted Siri button that every CarPlay-equipped vehicle will ship with. Users can scroll through lists and pan around maps with iOS's familiar swiping motion.
Ferrari
Ferrari's CarPlay implementation, shown off in the latest model of the marque's FF grand tourer, runs on a smaller display than its Volvo counterpart. The landscape touchscreen appears to be resistive, rather than capacitive, and sports a dedicated hardware button that switches users from Ferrari's own user interface to CarPlay.
Though Ferrari relies on touch for most interaction, the Italian marque differs from its Swedish counterpart in that it provides specific touchable areas — marked with arrows — for moving through paginated content, like lists, rather than swipe-style scrolling. There is no word on why Ferrari chose to go this route, but it could be due to the display technology used in the FF.
Mercedes-Benz
In contrast to the touch-based preferences of Volvo and Ferrari, Mercedes continues to prefer hardware controls. Most interaction is carried out using a rotary knob in the vehicle's center console, while the display is mounted higher up on the dashboard, just below the driver's line of sight.
Like Ferrari, Mercedes allows CarPlay to take over the entire display but does not provide a button to switch contexts. Rather, CarPlay automatically launches as soon as an iPhone is plugged in.