Apple to enable pixel-doubled 'Retina' mode for 4K monitors in OS X 10.9.3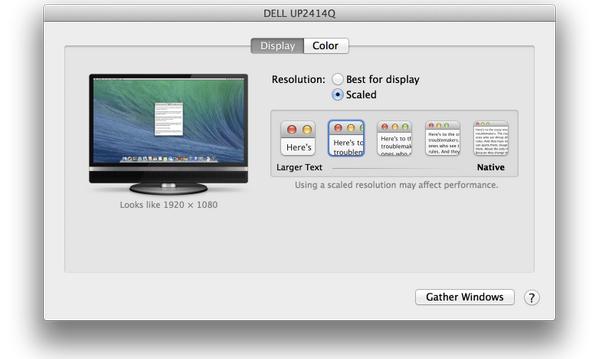 AppleInsider may earn an affiliate commission on purchases made through links on our site.
It appears that Apple will be enabling additional support for 4K displays with the latest OS X 10.9.3 maintenance update, with people familiar with the beta reporting support for so-called pixel-doubling, 60Hz refresh rates with late-2013 MacBook Pros and more.
According to reports, compatible Macs running OS X 10.9.3 now have more scaling options to work with, including a pixel-doubling mode that can display a desktop at native "Retina" levels over HDMI and likely Thunderbolt. The new options, spotted by Khaos Tian, reside in the Displays menu of OS X System Preferences and were not announced with in Apple's latest OS X 10.9.3 beta release notes.
The OS X 10.9.3 beta, released earlier today, allows for pixel-doubling, which makes content appear as it does on the late-2013 MacBook Pro with Retina display screen while maintaining sharpness. For most users, this new feature will make 4K displays easier to work with on a day-to-day basis.
With Apple's current external monitor support in OS X 10.9.2, Retina MacBook Pro and Mac Pro users are limited to a max scaled output resolution of 4,096 pixels-by-2,160 pixels at 24Hz, meaning system-level graphical assets are spread out. For example, the menu bar on the laptop would show up incredibly small on a connected 4K display.
Another output option for the laptop is 3,840 pixels-by-2,160 pixels at 30Hz, though the resulting image is similar and nowhere near native. In both cases, 4K signals are piped through HDMI.
In addition to the new scaling options, the beta now allows the Retina MacBook Pro to output to a 4K display at 60Hz. Currently, the refresh rate is capped at 30Hz, making animations like mouse cursor scrolling choppy.
It appears that the upcoming maintenance update will bring the late-2013 Retina MacBook Pro's 4K feature set more in line with that of the Mac Pro, which is already capable of pumping out 60Hz via multi-stream transport (MST) over Thunderbolt to displays that support the refresh rate. The changes Apple made to enable 60Hz for the Retina MacBook Pro is unknown at this time, though Khaos has found the refresh rate is available over HDMI.