Report: iPhone 5s to soon account for 1 in 5 iPhones, 5c growth stagnant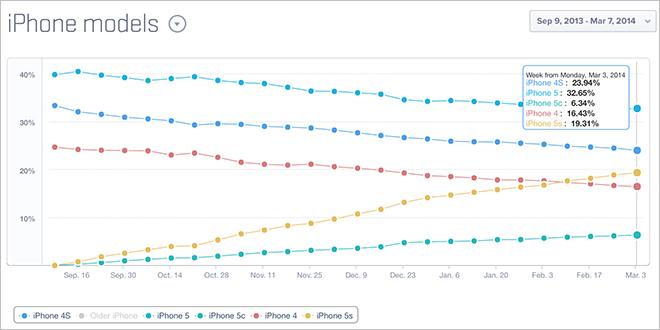 According to the latest statistics from analytics firm Mixpanel, Apple's iPhone 5s is about to breach the 20 percent mark in overall iPhone marketshare and will soon overtake the venerable iPhone 4S, while the counterpart 5c model languishes at about 6 percent.
As seen above, Apple's flagship iPhone 5s accounted for 19.31 percent of all active iPhones during the week of Mar. 3, and is on an upward trend to overtake the iPhone 4S. In fact, the crossover may have already occurred as Mixpanel updates its trends page for the full week every Monday.
The most current statistics place the iPhone 5 at the top spot with users accounting for 32.65 percent of the whole, followed by the iPhone 4S, which takes up 23.94 percent. The three-year-old iPhone 4 is on the decline at 16.43 percent, while the new iPhone 5c rounds out the top five with 6.34 percent.
Unlike past product cycles, Apple did not keep the last-generation iPhone 5 as a carry-over model when it introduced the iPhone 5s and 5c in 2013. Instead, the company opted to discontinue production altogether, shoehorning in the plastic-chassis 5c. The iPhone 4S, however, remains on sale as an entry-level model and starter phone for developing markets.
Looking at the graph, it appears the iPhone 5s is exhibiting the most growth, rising an average 0.5 percent each week since Dec. 30. The cheaper iPhone 5c is tracking upwards, but at a far slower pace of .14 percent per week. Echoing the Mixpanel results, a recent poll conducted by Piper Jaffray found the iPhone 5s to be the ">smartphone of choice for consumers planning to make a buy within the next few months.
As can be expected, the usage share of older models, like the iPhone 5, iPhone 4S and iPhone 4, are all trending down at a nearly identical rate as Apple's newer handsets take over.
Mixpanel is a web and mobile analytics firm that handles 17 billion user actions per month. The above statistics were compiled from over 194.3 billion events recorded from Sep. 9, 2013 to Mar. 3, 2014.