Questionable screenshots from China claim to show TextEdit, Preview, Healthbook apps in iOS 8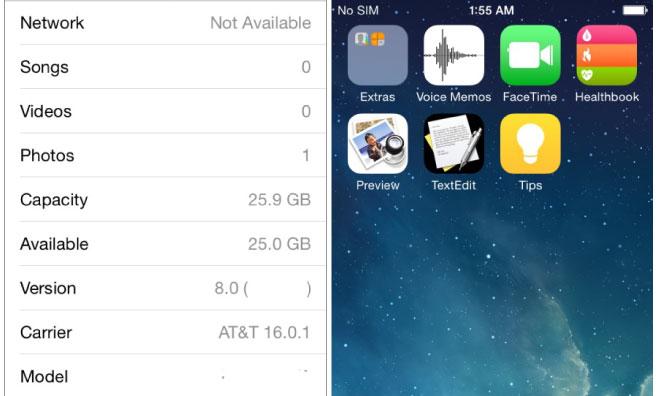 Chinese microblogging site Weibo lit up Thursday after images purporting to show Apple's next-generation iOS 8 with new mobile versions of OS X's TextEdit and Preview apps — as well as the rumored new "Healthbook" application — surfaced alongside fresh claims of a new 5.7-inch iPhone.
The images, from the Weibo account of Chinese wireless industry blog TDBeta.cn, show an iOS 7-style home screen with icons for each of the supposed new apps. The Preview and TextEdit icons appear to be lifted directly from their desktop counterparts, while the Healthbook icon mimics the existing Passbook app with an altered color scheme and new imagery.
Also on display is an icon labeled "Tips," sporting a white lightbulb overlaid on a yellow background reminiscent of the help icons found in Apple's revamped iWork suite.
The source of the hotly-debated screenshots also claimed that Apple's next iPhone will sport a 5.7-inch display, nearly 2 inches larger than the current model.There is a significant amount of debate on Weibo regarding the authenticity of the uncredited images, with many users questioning the icons themselves and others pointing to the matching timestamps as an indication of fakery. Another screenshot reportedly from the same source indicates that the device is provisioned for American carrier AT&T and sports 1 gigabyte less available capacity than a comparable 32-gigabyte iPhone running iOS 7, adding to the uncertainty.
While the Healthbook app matches up with previous rumors surrounding Apple's so-called iWatch, the addition of Preview and TextEdit apps is strategically suspect. iOS has long featured two other first-party document editors in the Notes and Pages apps, while iBooks collates PDF documents, though it does not allow editing. All three Apple-created apps already sync to the Mac desktop via iCloud, eliminating another possible reason for the switch.
The same source also indicated that Apple's so-called "iPhone 6" would come with a 5.7-inch display, adding to a rumor that has been making the rounds in recent months. Japanese Apple blog Mac Otakara reported similar information earlier this week along with claims that the next-generation handset would take design cues from the iPhone 5c and seventh-generation iPod nano.
However, well-connected analyst Ming-Chi Kuo of KGI Securities has maintained that Apple will not exceed the 5-inch barrier on the display size for its next-generation iPhone. According to Kuo, Apple executives are committed to the "principle of one-hand use," and anything beyond 5 inches would require users to use two hands with the device.