Big-screen 'iPhone 6' predicted to drive massive upgrades, draw switchers from Android to Apple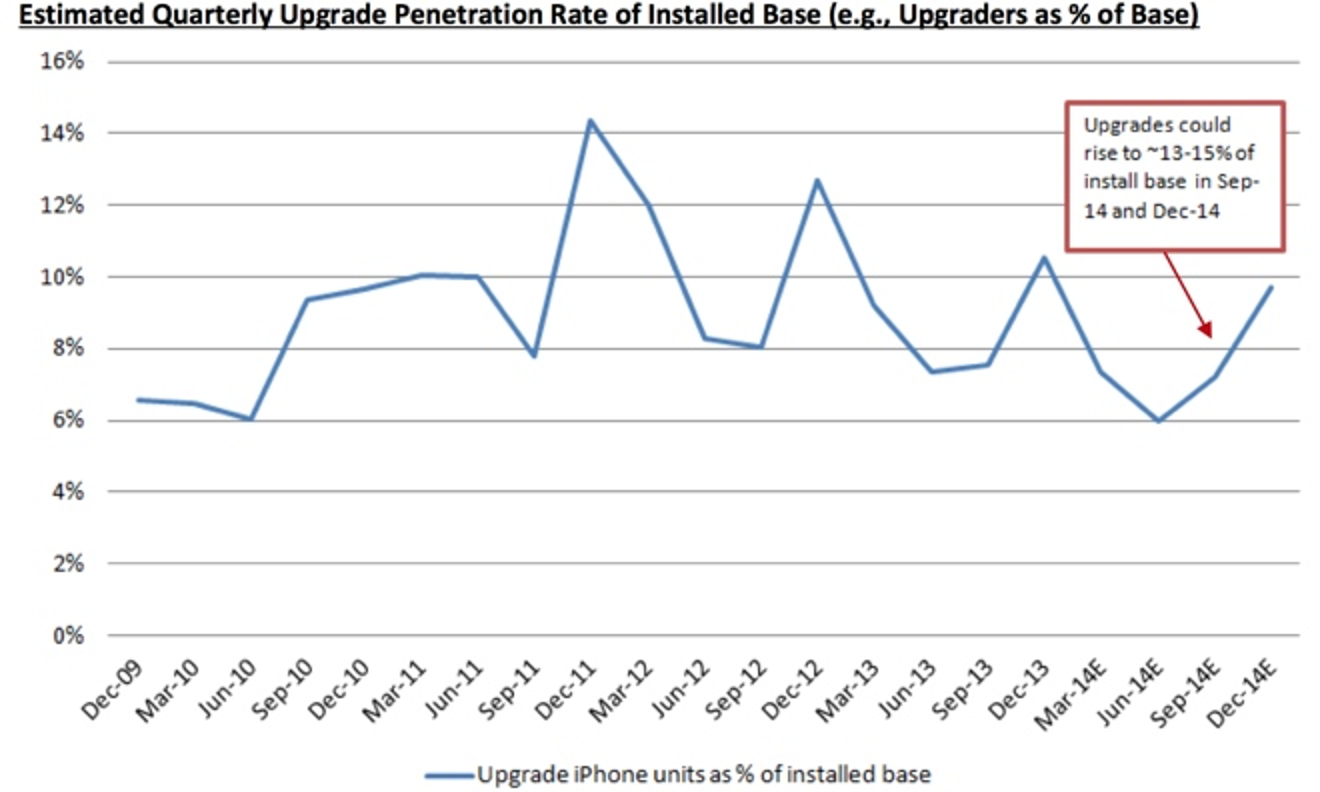 If Apple were to launch a redesigned iPhone with a screen size around 5 inches this year, it would become the "motherlode of all upgrade cycles" for the company, helping to reaccelerate year over year growth, one analyst believes.
Many current iPhone owners experience "large-screen envy" driven by competing Android devices with bigger displays, analyst Brian Marshall of ISI Group believes. In a note to investors issued this week, a copy of which was provided to AppleInsider, he said he believes a larger iPhone will drive significant upgrades among existing iPhone users, and would also convert a large number of Android users to Apple's platform.
Marshall of estimates that the current iPhone installed base is about 260 million users, which is equivalent to the last seven quarters worth of iPhone sales. He also estimates that slightly more than half of iPhone sales today go to upgraders.
In his estimates, about 9 percent of total existing iPhone users upgrade to a newer model in the average quarter. He believes that number has actually dropped as the iPhone market has grown, having hit around 11 percent in 2011 and 2012.
In peak quarters, Marshall believes as many as 14 percent of existing iPhone owners opt to upgrade to a newer handset. He expects a similar upgrade for Apple's so-called "iPhone 6" in the second half of 2014, if not a higher percentage.
Specifically, Marshall believes Apple could release two new iPhone models to better serve the existing smartphone market. He sees the company launching one handset with a 4.7-inch display, and another with a jumbo-sized 5.5-inch screen.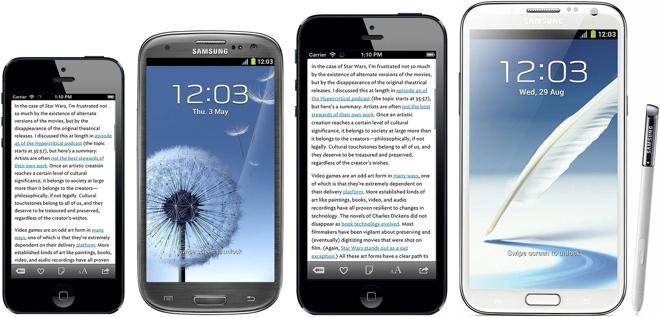 Mockup of iPhone with 4.94-inch screen, created by Marco Arment.
With what he believes is "pent-up demand" for a larger iPhone, Marshall predicts that the new models could drive $3.00 in additional earnings per share.
ISI Group rates AAPL stock as a "strong buy" with a price target of $600. Marshall said that while new product introductions — such as the recently announced CarPlay or a rumored "iWatch" — generate buzz, the iPhone remains Apple's most important product, representing 60 percent of its gross profits.
Marshall is one of a large number of investors who are widely expecting Apple to introduce a larger iPhone later this year. Just last week, Andy Hargreaves of Pacific Crest predicted that Apple's next handset will feature a 4.7-inch display and a $299 starting price tag.
Currently, Apple's iPhone 5s and iPhone 5c come with screen sizes of 4 inches. If Apple were to increase the display size on its next-generation handset, sometimes referred to as an "iPhone 6," it would be the second time that the company has done so, originally starting with a 3.5-inch display on the first-generation iPhone through the iPhone 4S.
While some reports have claimed Apple has experimented with iPhone screen sizes approaching 6 inches diagonally, and Marshall believes Apple will launch a handset in the 5.5-inch range, proven insider Ming-Chi Kuo of KGI Securities believes Apple won't exceed 5 inches on a larger iPhone display, citing the company's commitment to an "unwavering principle of one hand use." He expects the next iPhone to have a screen size larger than 4.5 inches, but smaller than 5.