Pacific Crest sees larger $299 iPhone increasing profits, ups Apple price target to $635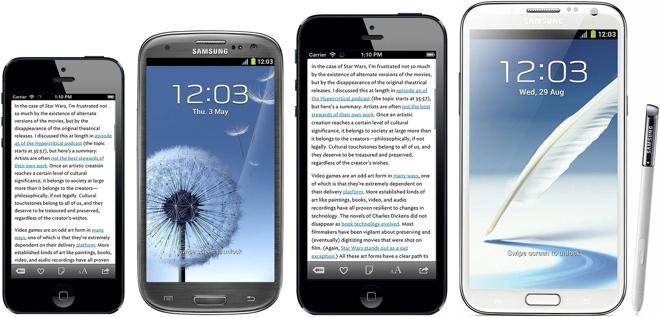 Shares of Apple rose Tuesday morning after Pacific Crest upgraded its rating on the stock to "outperform," citing high expectations for the company's next iPhone, which the firm expects to sport a 4.7-inch display and $299 starting price tag.
Mockup of iPhone with 4.94-inch screen, created by Marco Arment.
Analyst Andy Hargreaves issued a note to investors on Tuesday, setting a new price target of $635, or about $100 more than its current trading price. He sees a larger iPhone priced starting at $299 increasing gross profit on replacement sales, and also attracting new customers that would otherwise have opted for an Android handset with a bigger display.
Estimates from Hargreaves suggest that Apple could gain as much as $4 in earnings per share in 2014 if 35 percent of iPhone customers were to opt for the larger display. His projections suggest Apple could capture 10 percent of the existing jumbo-sized phone market, with devices larger than 4 inches currently dominated by Google's Android platform.
Hargreaves is especially encouraged by the fact that Apple's new mid-range iPhone 5c has not had an adverse effect on sales of the high-end iPhone 5s. He takes this as a sign that consumers are willing to pay more for premium products in the smartphone space, and as a result he believes a $299 starting price for a larger iPhone wouldn't deter most buyers.
Currently, Apple's iPhone 5s and iPhone 5c come with screen sizes of 4 inches. Some rumors have claimed that Apple's next-generation handset, sometimes referred to as an "iPhone 6," will sport an even larger display, marking the second time that Apple has increased the size of the iPhone screen.
While some reports have claimed Apple has experimented with iPhone screen sizes approaching 6 inches diagonally, proven insider Ming-Chi Kuo of KGI Securities believes Apple won't exceed 5 inches on a larger iPhone display, citing the company's commitment to an "unwavering principle of one hand use." He expects the next iPhone to have a screen size larger than 4.5 inches, but smaller than 5.