Apple expected to sit out on megapixel horserace with 2014 iPhones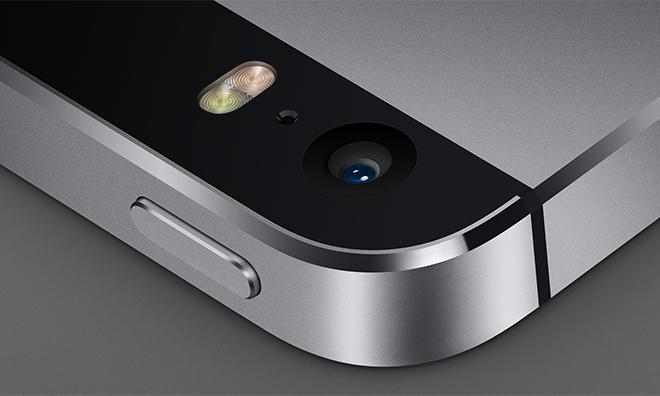 Smartphone manufacturers are expected to continue their battle for pixel-pushing dominance in 2014 with new cameras of 13 megapixels and beyond, but according to one insider, Apple is currently expected to sit out on the megapixel race this year to concentrate on other ways to better images from its next iPhone.
People familiar with the matter have told AppleInsider that Apple will likely forego a high-megapixel camera in its 2014 iPhone offerings, in favor of tweaking other image-enhancing components. In other words, megapixels are less of a priority for Apple than overall image quality.
The current iPhone 5s is a good example of how Apple is not interested in playing the numbers game when it comes to camera sensor pixel count. Instead of boosting the number of pixels in the iPhone 5s camera, Apple enlarged each pixel's size to 1.5 microns in diameter, a 0.1-micron increase from the iPhone 5. The larger surface area increased the sensor's light gathering capabilities by 33 percent compared to the previous iSight rear facing camera.
Outside of the camera sensor, Apple refined the iPhone's optics package to allow for greater light transmission. The 5s brought a faster f/2.2 lens group into the mix, offering better low-light performance and improved image quality.
This does not mean that the next-gen iPhone will stick with the same 8MP iSight camera as the iPhone 5s and 5c, but may suggest Apple is planning a more conservative upgrade route. The most recent resolution change was seen with the iPhone 4S to iPhone 5, which brought a 3MP bump.
Apple's apparent lack of interest in "out-megapixeling" its competition comes as a number of upcoming high-profile smartphone releases from iPhone competitors are expected to reach 13MP and beyond. In a research note issued this week, KGI Securities analyst Ming-Chi Kuo detailed how major manufacturers are racing to shoehorn 13MP+ CMOS image sensors (CIS) into this year's handsets, including Samsung, numerous Chinese brands, and even Amazon, which is expected to enter the smartphone market in the next 3 to 6 months.
Sony has been the sole provider for Apple's backside illuminated iPhone CIS products since the iPhone 4S. This is interesting considering he also expects the Japanese electronics giant to be the dominant supplier for this year's round of 13MP+ sensors, taking a 65.7-percent share of the market.
"In terms of technology, Sony leads CIS suppliers with its BSI process, which boasts better sensitivity and color saturation quality," Kuo writes. "In 13MP and higher spec, the smaller pixel size creates more difficulty to sensitivity and color saturation. This is where Sony's BSI process stands out."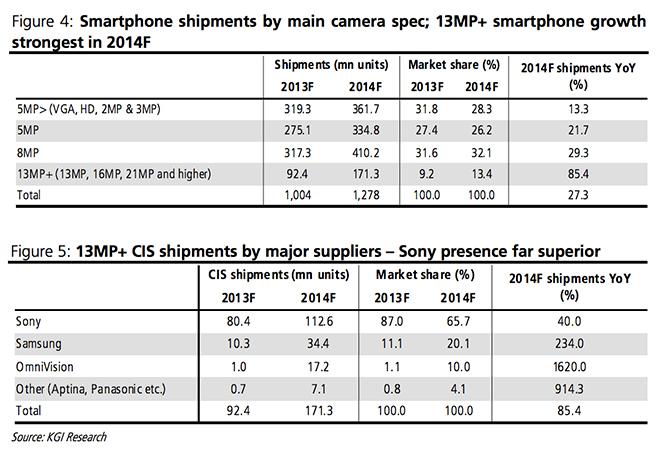 The analyst sees shipments of smartphones carrying 13MP+ cameras growing 70 percent year-on-year, a rate significantly higher than that of phones using 8MP and 5MP shooters. Leading the charge is Samsung, which will also use Sony's CIS, as well as a variety of lesser-known Chinese brands.
Marketshare of 13MP-and-above smartphones will continue to rise in 2015 as higher resolution sensors replace the current high-end smartphone standard of 8MP. By the end of fiscal 2014, 13MP cameras will account for 65 percent of these high-resolution components, Kuo says.
Further, next-generation application processors (APs) coming out this year will offer support 13MP+ image sensors, meaning lower-end smartphones can use the technology as a growth driver. As seen below, most AP makers will have some sort of offering in 2014. The only company to keep its chips premium is Samsung.
Rival Samsung, however, is one of the main contenders and will ship the Galaxy S5 with 16MP camera in the next couple of months.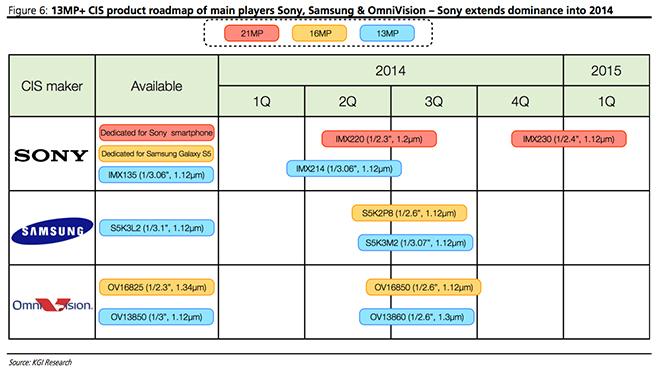 One final graphic from Kuo's projections show Sony will launch a 21MP 1/2.4" CIS in the last quarter of 2014. Although the pixel count is nearly triple that of Apple's current iSight camera, the introduction may hint at the direction in which the company will be pulled by component purchasers as the megapixel race continues.