Adoption of OS X 10.9 Mavericks significantly outpaces 10.8 Mountain Lion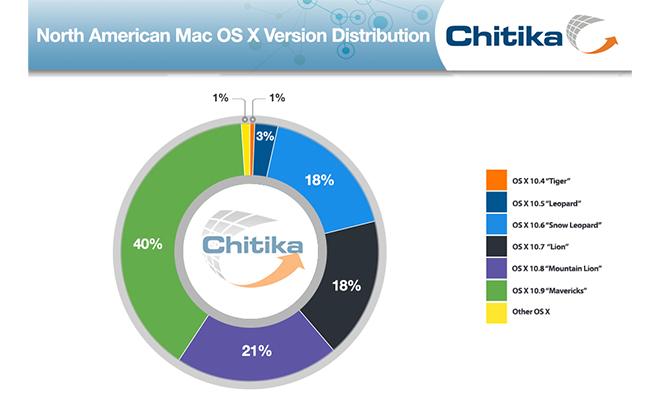 The rate at which Mac owners are upgrading to Apple's OS X 10.9 Mavericks has far outperformed the operating system's predecessor — OS X 10.8 Mountain Lion — with one report saying the latest OS is now running on over 40 percent of active Macs.
After five months of availability, OS X 10.9 Mavericks now generates just over 40 percent of all North American OS X-based Web traffic handled by ad network Chitika, almost doubling Mountain Lion's current 21 percent share.
By comparison, the last-generation OS X 10.8 Mountain Lion took nearly 14 months to reach a 34 percent share and was only at 26.8 percent after seven months on the market.
As for older versions of OS X, 10.7 Lion and 10.6 Snow Leopard both account for 18 percent of Mac traffic, while OS X 10.5 Leopard is at 3 percent. The almost nine-year-old OS X 10.4 Tiger is still running on one percent of machines, while "other OS X" takes the last percent.
In October 2013, one month after Mavericks' release, the operating system saw an adoption rate three times that of Mountain Lion. Possibly contributing to the uptick in adoption is Apple's decision to make Mavericks a free upgrade.
Chitika notes that while Mavericks' 40 percent is commendable, the statistic is nowhere near Apple's iOS 7, iterations of which account for more than 80 percent of traffic for the platform. The firm speculates a variety of factors play a role in the noticeable gap, including hardware incompatibility, differing device refresh cycles and user demographics.
Another interesting point is that the iOS update mechanism is much more aggressive than OS X. For example, iPhone, iPad and iPod touch users are solicited to upgrade with pop-ups and push notifications, while older OS X version do not have the same assets.
Things could change with OS X 10.10, however, as Mavericks includes auto update features built into the Mac App Store, as well as Notification Center and app badge carryovers from Mountain Lion.