Apple raises international App Store prices to adjust for exchange rates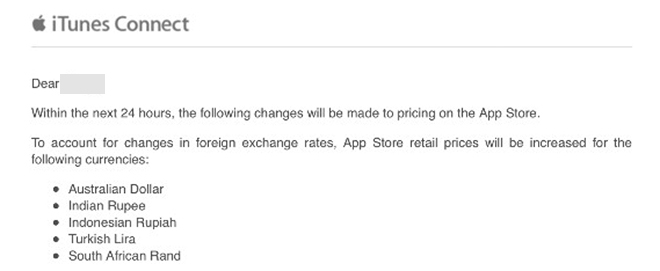 Apple on Monday notified developers that App Store pricing for five currencies will be changing within the next 24 hours, with the adjustments serving to acclimate the digital store to fluctuating exchange rates.
As noted in the iTunes Connect letter, provided to AppleInsider by reader Gregg, the changes affecting both the iOS and OS X App Stores are routine adjustment made periodically to reflect worldwide economic trends.
To account for changes in foreign exchange rates, App Store retail prices will be increased for the following currencies:
Australian Dollar
India Rupee
Indonesian Rupia
Turkish Lira
South African Rand
In addition to the App Store price bumps, Apple will be raising retail prices for Israeli New Shekels, while decreasing "some price tiers" for New Zealand.
Developers can view the new Pricing Matrix as well as updates to their iOS Paid Applications and Mac OS X Paid Application contracts on the iTunes Connect website.