Apple's iOS 7 reaches 87% adoption, still growing faster than Android 4.4 KitKat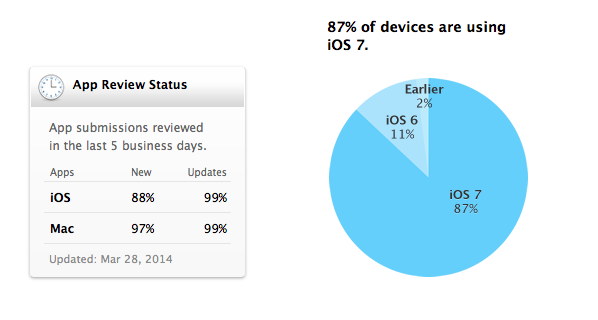 Apple has updated its App Store statistics for April, reporting that 87 percent of its users accessing the iTunes Store have now installed its latest iOS 7.
Apple first released iOS 7 in mid September alongside a new crop of iPhones. Six months later, there are more users on iOS 7 than any other mobile platform API level.
Google's Android 4.4 KitKat, also unveiled last year, still hasn't even officially rolled out to many owners of a variety of quite popular Android phones. Overall, Google reports that just 5.3 percent of its active Google Play users are now using KitKat.
Compared to the mobile OS figures from each company from early February, iOS 7 has jumped up by 5 percentage points, while KitKat has only improved by 3.5 percentage points in the same two month period.
Apple's customers are also leaving old software behind faster. Just 11 percent of App Store users are still on iOS 6, and only one percent are using an iOS version more than a year and a half old. On Android, a full 33.3 percent of the installed base is stranded on a version dating from earlier than the summer of 2012, prior to the release of iOS 6. Another 61.4 percent are on a version released during the span of iOS 6.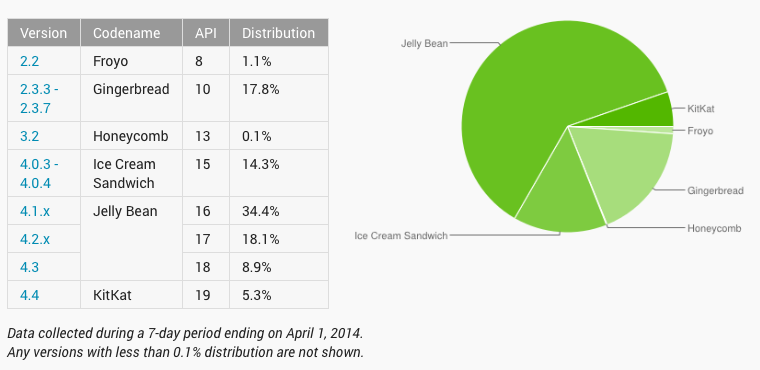 Apart from operational and technical bragging rights, the fact that Apple can rapidly distribute the newest versions of its mobile platform also means that developers can be confident about using the latest features Apple releases.
In August, a survey taken by Twitterrific developer Craig Hockenberry of The Iconfactory indicated that 95 percent of developers were working to add support for iOS 7 in their apps, while 52 percent already planned to released iOS 7-only apps.
"The Fallacy of Android First"
In stark contrast, Emu chat app co-founder Dave Feldman just profiled for TechCrunch that his company's plans to release its app for Android first ran into a series of problems so significant that he observed, "Android didn't work out for us" and pulled the title from Google Play.
Feldman outlined that his company's initial market research indicated that Android had more users, was improving its user interface and that "a few high-profile influencers were switching to it from iPhone."
He also noted other "hopeful rumors: Android apps were easier to build. Adoption of recent Android versions was high enough that we could limit our backward compatibility, avoid serious fragmentation, and still have a large potential user base."
In reality however, Emu ran into "unanticipated technical hurdles" with Android's "open" chat architecture allowing any third party app to sit on top of the phone's SMS and found that "even when you don't support older Android versions, fragmentation is a huge drain on resources.""Even when you don't support older Android versions, fragmentation is a huge drain on resources" - Dave Feldman, Emu
He also concluded that "Google's tools and documentation are less advanced, and less stable, than Apple's," and that "Android's larger install base doesn't translate into a larger addressable market."
Feldman cited similar findings by Steve Cheney, who observed that "building and releasing on Android costs 2-3x more than iOS. This is due to a multitude of reasons: less sophisticated tools, generally more cumbersome APIs, fewer exposed advanced features, enormous QA issues brought on by fragmentation, etc. The rough rule of thumb is for every iOS engineer you actually need two Android engineers— or twice the development time."
Android security issues
In addition to erecting problems for app developers, Android's fragmentation and update lag also create security problems for users.
In February, a report by Cisco detailed that 99 percent of mobile malware targets Android.
That echoed the "staggering rate" of malware growth observed last summer by Juniper Networks in a report that noted that "77 percent of Android's threats could be largely eliminated today if all Android devices had the latest OS. Currently only 4 percent do."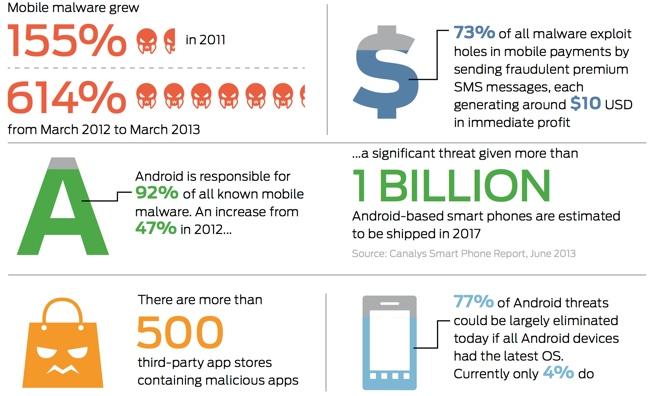 In contrast, when an SSL flaw was discovered in Apple's iOS code, the company was able to fix the problem and distribute the update to its users within just a few days.
One specific critical security flaw in Android's WebView, addressed by Google in Android 4.2, is still open to exploit for the majority of Google's Android users many months later because they simply can't obtain the patch for their phone from the vendors, carriers or Google.
Many Android users don't even know they are at risk for exploits. The wide open nature of Android's Play Store just resulted in Google listing "Virus Shield" as its top performing app for over a week. However, despite positive reviews and a 4.5 star rating, the $3.99 app was found to do absolutely nothing but defraud the more than ten thousand users who paid to download it.