Apple and Google bring fight for exclusive games to mobile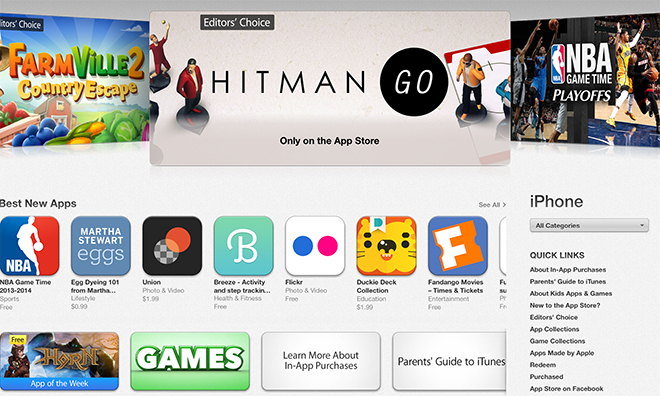 According to a report from The Wall Street Journal on Sunday, Apple and Google are actively pursuing game developers with special incentives to make sure big name titles come to their respective platforms first.
Citing people familiar with the matter, the WSJ reported Apple and Google offer top games makers special consideration, like premium positioning in app store sections and lists, in exchange for exclusive first rights to a hot title.
In August of 2013, Electronics Arts Inc. reportedly agreed to deliver popular strategy game Plants Vs. Zombies 2 on Apple's iOS some two months before launching a version for Google's Android. In exchange for platform exclusivity, Apple promoted the title in iOS App Store banners and featured games lists.
Sources also claim developer ZeptoLab agreed to offer Cut the Rope 2, another sequel to a hot-selling game, as an iOS exclusive for about three months. Like EA, ZeptoLab's title was featured prominently in the App Store at launch.
Apple does not offer monetary subsidies for exclusive titles, sources said, instead relying on the promise of exposure to iOS' massive user base as collateral in dealmaking. Still, the process infringes on Apple's policy to promote apps through an editorial team, which in theory makes its decisions based content, not business agreements.
The publication said Apple's editorial team now factors in exclusivity and input from developer-relations staff when considering a title for promotion.
Platform exclusives have long been a standard marketing tactic in the world of console gaming, with major players Sony, Microsoft and Nintendo vying for rights to major money makers. Good examples of early exclusive franchises include "Metal Gear: Solid" for the PlayStation and "Halo" for Xbox.
Until recently, the strategy has been less important to mobile as a slew of other factors — hardware specs, operating system, ecosystem — combine to play a larger role in device sales. Consumers usually don't buy into iOS or Android because of an exclusive game.
For games makers, however, promotion in the App Store with banner ads and inclusion in featured game lists can lead to a significant increase in downloads, which translates into dollars.
As for Google, the Internet search giant has lined up deals similar to Apple's, offering prominent app store placement for titles that integrate Android branding. Amazon is also offering identical arrangements to developers, promising high placement in the Amazon Appstore in return for platform exclusivity.