Apple v. Samsung jury looking into Steve Jobs' decision to sue, Samsung patent purchases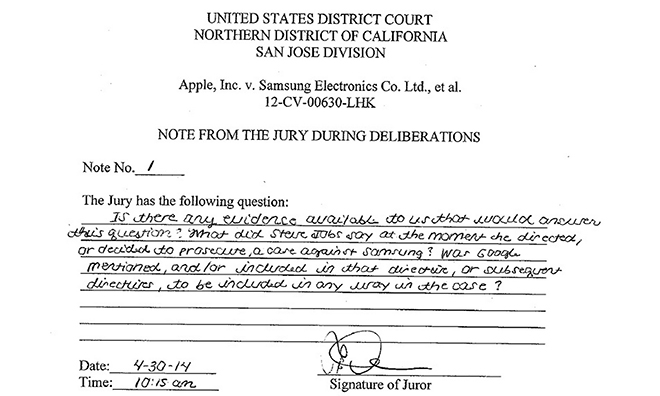 AppleInsider may earn an affiliate commission on purchases made through links on our site.
In its first full day of deliberations, the jury deciding Apple and Samsung's patent trial in California sent five notes to Judge Lucy Koh asking for further clarification on key case points including Steve Jobs' thinking behind the suit.
A total of five notes came out of the jury room on Wednesday, four of which asked that additional evidence be provided regarding Apple cofounder Steve Jobs, how the patents-in-suit were selected and Samsung's response to hearing news of Apple's claims of infringement.
In all but one request, Judge Koh referred jurors back to exhibits presented during the trial, noting that presented evidence cannot be supplemented.
The first note requesting information on Jobs shed some light on what avenue the jury is headed. It asked whether evidence is available to show what Jobs said "at the moment he directed, or decided to prosecute, a case against Samsung" and if Google was mentioned in that directive or subsequent orders.
Apple made it clear that Google is not on trial, though Samsung attempted to shield its products by pointing out alleged infringing features were built into the Android operating system. The Korean company went so far as to bring in a Google executive to prove features like slide-to-unlock were invented by the Internet search giant before Apple patented them.
Moving to patents, the second jury note asked how Apple selected its five alleged infringed properties, for which the company is seeking $2.2 billion in damages. Jurors want to know if the properties were presented to Apple execs before or after it was decided that the company would level charges against Samsung.
The jury also requested evidence pertaining to Samsung's purchase of two patents, including the name and title of the person who recommended the buy. In a follow-up, it was asked if evidence could be provided to show what Samsung's CEO said on hearing news that Apple believed its patents were being infringed.
As mentioned above, Judge Koh denied all evidence requests and directed the jury to documents already presented in the trial.
In its final question, the jury asked for eight copies of the Jury Verdict Form. Judge Koh provided the reproductions, but noted that only one can be the "official" entry when a verdict is handed down.
Today's notes were much more substantial than Tuesday's request for office supplies like Post-it notes and highlighters.
The jury will return to the courthouse on Thursday and is scheduled to deliberate every weekday until a verdict is reached.