Charity auction for lunch with Apple CEO Tim Cook sells for over $330K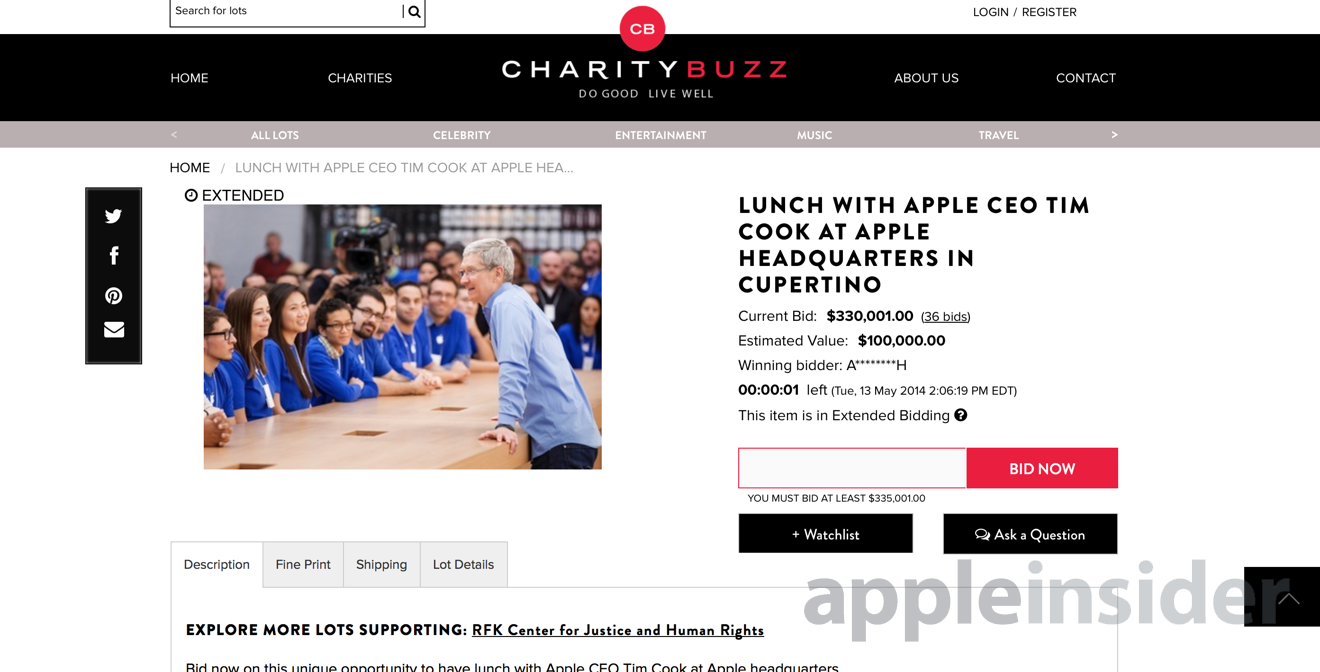 Bidding on a lunch with Apple Chief Executive Tim Cook closed on Tuesday after the opportunity reached a price of more than $330,000, all of which will be donated to a good cause.
The charity auction was first listed late last month with an estimated value of $100,000. The allure of lunch with Cook managed to triple that estimate, though, through the CharityBuzz website.
CharityBuzz does not allow individuals to see the final closing bid after an auction has ended, but AppleInsider reader Eric snapped a screenshot of the page one second before the conclusion. It shows a current bid of $330,001.00, meaning that the winning bid was worth at least that much.
The winner will be able to bring one guest with them for lunch, though both will need to go through a security screening before meeting Apple's top executive. Cook will spend one hour of his time with the person for the event, and scheduling could take up to a year based on his availability.
Travel and lodging expenses were not included in the bidding price, so whoever won will need to shell out for a trip to Cupertino, Calif., in addition to the charity-bound bid.
While Cook's lunch came in with a much higher value than its listed value, the last-second price was still less than half of what another auction from the Apple CEO earned a year prior: $610,000.
Between the two auctions, that means that Cook has managed to raise nearly $1 million to benefit the Robert F. Kennedy Center for Justice and Hunan Rights. Individuals can also contribute to the organization by visiting its official website: rfkcenter.org.