Auction winner pays $610K for cuppa with Apple CEO Tim Cook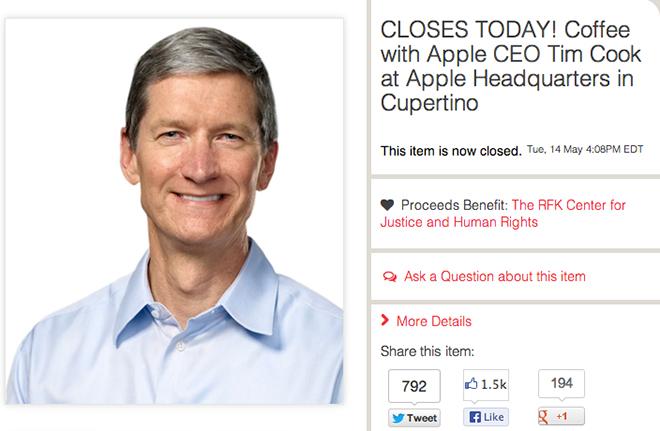 AppleInsider is supported by its audience and may earn commission as an Amazon Associate and affiliate partner on qualifying purchases. These affiliate partnerships do not influence our editorial content.
A charity auction for an hour's worth of coffee talk with Tim Cook closed on Tuesday, as the winning bid reached a lofty $610,000 for the one-on-one time with the Apple executive.
The auction winner's final bid, as listed on CharityBuzz, crushed the estimated $50,000 value for the meeting. It is unknown who put in the winning bid, though that information is likely to be released at a future date.
Cook's auction began at the end of April, with starting bids of around $5,000 quickly skyrocketing to over $560,000 in only two days. Today's finalized bid set record for CharityBuzz's largest auction ever, which previously stood at $250,000 for a day with former president Bill Clinton.
The $610,000 price of entry gets the auction winner 30 minutes to an hour of face time with Cook, with the meet to take place at Apple's headquarters in Cupertino. Travel and lodging expenses were not included as part of the deal.
Proceeds for the auction will go toward The RFK Center for Justice and Human Rights.