Eddy Cue and Jimmy Iovine go in-depth on Apple's Beats acquisition and future plans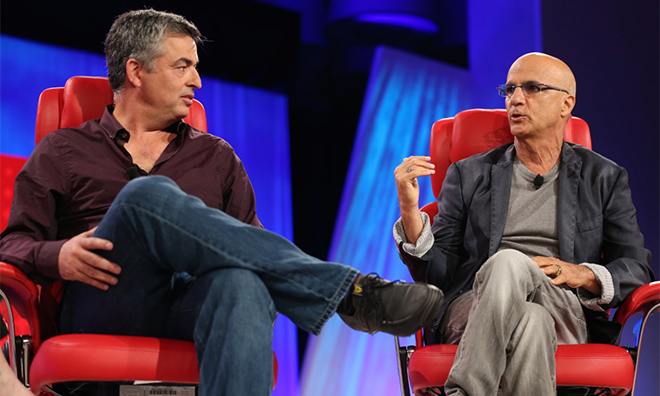 AppleInsider may earn an affiliate commission on purchases made through links on our site.
Speaking at the Code Conference on Wednesday, Apple SVP of Internet Software and Services Eddy Cue and Beats cofounder Jimmy Iovine offered a peek behind the curtain of Apple's $3 billion deal covering everything from subscription music services to future hardware.
In a wide-ranging discussion with Re/code's Walt Mossberg and Kara Swisher, Cue and Iovine detailed the reasoning behind Apple's purchase of Beats, the company's largest acquisition ever. Topics moved from Hollywood's rocky relationship with Silicon Valley, why the television experience is so poor and what role the audio company will play in Apple's future, among others.
After plowing through boilerplate PR talk — buying Beats was "a no brainer" — Cue opened up a bit by saying the deal to buy Beats, or at least the talent behind it, has been in the works for a decade. Together, the two companies can accelerate ongoing projects and products that are still under wraps.
As discussed earlier in the day, Apple seems to have been more interested in Beats Music, Beats' subscription streaming service, than headphone and speaker hardware. Iovine revealed that Beats Music gained 250,000 subscribers in three months of operation. The number would have been higher if Beats had rolled in in-app purchasing from the start, he said.
Cue also let loose some statistics of his own, saying Apple sold its 35 billionth songs through iTunes last week and currently has around 40 million users listening to iTunes Radio around the world. Apple plans to keep Beats Music a separate brand, but has been thinking about subscription-based streaming for a long time, he said.
For those wondering about the fate of Beats Music on other platforms like Android and Windows Phone, Apple plans to keep those assets alive for the foreseeable future. Since Apple normally closes off access to other operating system after buying out an app or service, the unusual move to keep Beats Music alive may be a bid to appease regulatory agencies that have yet to sign off on Apple's acquisition.
On the hardware side, Cue was tight-lipped about future products, but did compliment Beats on its headphone business. Iovine was less positive when talking about earbuds that come with phones, saying smartphone makers include them to make sure the sound works. The music mogul went on to say it's not the responsibility of companies like Apple to create these traditionally aftermarket devices.
Cue defended the EarPods, which come free with every iPhone purchase, saying they offer industry-leading out-of-the-box sound, but admitted that making "incredible sound" costs more money.
Interestingly, when Mossberg asked about Apple's foray into speakers with the now-dead iPod HiFi, Cue said the device wasn't a good idea at the time — but it is now.