Rumor: Photo shows "iPhone 6" rear shell with cut-out Apple logo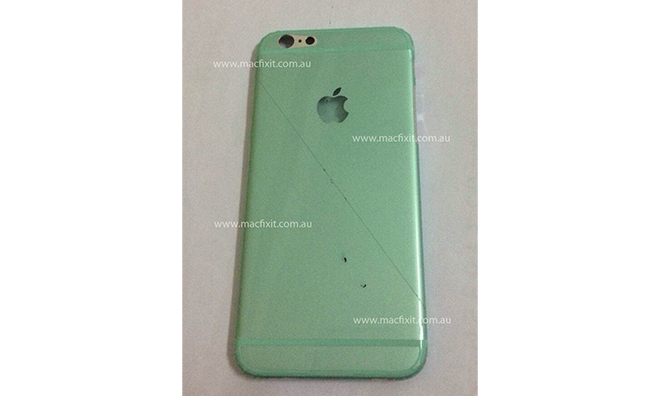 A week after photos of a rumored "iPhone 6" backlight hit the Web, a fresh report on Thursday claims to have snapped the first pictures of the next-generation handset's rear cover, which appears to sport a cut-out Apple logo.
The latest alleged iPhone 6 hardware leak comes from Australian blog Macfixit, which posted a single photo procured from "a source" in China.
While the part matches up with previous mock-up designs, it does feature something new in what looks to be a cutout in the shape of Apple's logo. With a protective green film obscuring most of the component, however, it's hard to tell whether the logo is actually cut out or merely polished. It's worth noting that the second-generation iPad mini, which some say inspired the iPhone 6 design, was found to have a similar feature when parts for the tablet first leaked in August 2013.
Initial speculation predicted Apple would include an illumination module instead of the usual polished logo, but the company ultimately embedded a shiny piece of metal that is thought to serve as a radio-transparent window. The iPad Air also incorporates the design feature.
Thursday's supposed part leak comes after photos of an LED backlight hit the Web earlier this month. Up to this point, most of the reported "parts leaks" have been mock-ups and dummy models said to be in use by third-party accessory makers looking to get a head start on case production.
Apple is expected to announce a 4.7-inch iPhone — and possibly a 5.5-inch version — later this year as part of the company's annual refresh cycle. According to reports, manufacturers are having trouble producing the larger model's battery, which may delay the phablet's launch by more than a month.