Reuters: Production of 'iPhone 6' screens to begin in May, 5.5" model delayed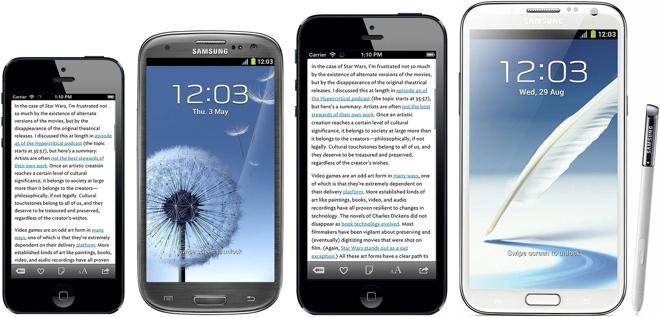 Apple is preparing to ramp up production of displays bound for next-generation iPhones which, according to Reuters, will launch this fall in 4.7-inch and 5.5-inch varieties.
Citing supply chain sources, Reuters on Tuesday reported that Apple partner display manufacturer Japan Display will be first to start mass production of 4.7-inch panels bound for the so-called "iPhone 6" as early as May, with Sharp and LG Display to follow in June. Current iPhone 5s and 5c models sport a 4-inch display.
A second, larger 5.5-inch version is also on the way, but difficulties with in-cell manufacturing methods have delayed a ramp to mass production. An initial kick-off date is unknown, but suppliers are expected to begin manufacturing the large phablet-size screen "several months" after the 4.7-inch version. To push production forward, Apple could initially fall back on older thin film technology for the 5.5-inch display, then switch to in-cell at a later date, sources said.
According to the publication both new iPhone models were slated to use in-cell touchscreens, a technology that slims down the overall thickness of a device's touch panel by incorporating capacitive touch sensors into the LCD array. Apple first employed the tech in 2012 with the iPhone 5.
The latest rumors run counter to a report from Japanese financial publication Nikkei, which last week said Apple was already producing 4.7-inch and 5.5-inch displays to be used in the next iPhone. While the publications disagree on a manufacturing start date, they agree on screen sizes and suppliers.
Along with the reported bump in screen size, rumors surrounding Apple's next flagship handset abound. The most recent speculation ranges from the inclusion of sapphire displays to a new 10-megapixel f/1.8 camera module with interchangeable lenses.