Japanese newspaper repeats persistent 'iPhone 6' rumors: 2 screen sizes, Sept. launch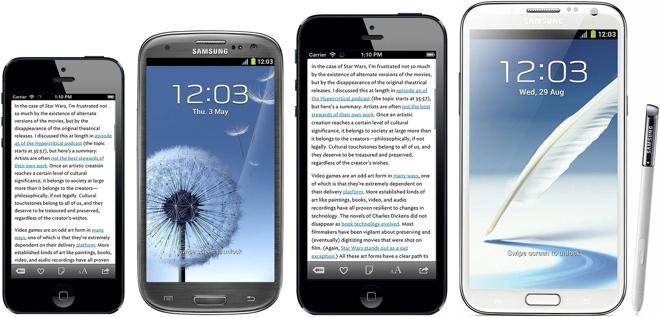 Apple is readying two variants of the so-called iPhone 6 with significantly larger 4.7-inch and 5.5-inch displays for a September launch, according to a Thursday report from the Land of the Rising Sun.
Mockup of iPhone with 4.94-inch screen, created by Marco Arment.
In support of the effort, Apple component suppliers in the East Asian nation have already "apparently begun" manufacturing sensors and display parts, Japanese financial newspaper Nikkei said. That lines up with previous reports of a new dual-size strategy for the iPhone, though there is debate amongst analysts as to exactly what those sizes will be.
Many believe that the company will at least trial a handset with a display over 5 inches, but well-connected analyst Ming-Chi Kuo of KGI Securities disagrees. Kuo, who has repeatedly proven to be an accurate source of Apple moves in the past, instead argues that Apple will not exceed the 5 inch threshold due to their "unwavering" dedication to the idea of easy one-handed use.
That aside, Sharp, Japan Display, and LG are all expected have a hand in producing the iPhone 6's Retina display. Nikkei also believes that the screen will sport a "significantly higher" resolution than Apple's current 326 pixel-per-inch offering.
Other features rumored to be bound for the iPhone 6 are a new sapphire-coated display and an iPad mini-esque industrial design with a significantly reduced bezel. Upgrades to the device's camera could also be in the offing, with some suggesting that Apple may upgrade to a 10 megapixel f/1.8 shooter with interchangeable lenses.